NCV33164: Voltage Supervisor, Undervoltage Sensing Circuit, Micropower, with Open Collector Output, Qualified for 3.0 V Systems
The MC34164 series are undervoltage sensing circuits specifically designed for use as reset controllers in portable microprocessor based systems where extended battery life is required. These devices offer the designer an economical solution for low voltage detection with a single external resistor. The MC34164 series features a bandgap reference, a comparator with precise thresholds and built-in hysteresis to prevent erratic reset operation, an open collector reset output capable of sinking in excess of 6.0 mA, and guaranteed operation down to 1.0 V input with extremely low standby current. These devices are packaged in 3-pin TO-226AA, 8-pin SO-8 and Micro-8 surface mount packages. The NCV device is packaged in SO-8.

Applications include direct monitoring of the 3.0 or 5.0 V MPU/logic power supply used in appliance, automotive, consumer, and industrial equipment.
Features

Temperature Compensated Reference

Monitors 3.0 V (MC34164-3) or 5.0 V (MC34164-5) Power Supplies

Precise Comparator Thresholds Guaranteed Over Temperature

Comparator Hysteresis Prevents Erratic Reset

Reset Output Capable of Sinking in Excess of 6.0 mA

Internal Clamp Diode for Discharging Delay Capacitor

Guaranteed Reset Operation With 1.0 V Input

Extremely Low Standby Current: As Low as 9.0 µA

Economical TO-226AA, SO-8 and Micro-8 Surface Mount Packages
Technical Documentation & Design Resources
| | | | |
| --- | --- | --- | --- |
| | | | Interactive Block Diagram |
Case Outline
NCV33164D-3R2G
Obsolete

AEC Qualified
PPAP Capable
Pb-free
Halide free

NCV33164, 2.65 V, Active Low
SOIC-8
751-07
1
260
Tape and Reel
2500
NCV33164D-5R2G
Active

AEC Qualified
PPAP Capable
Pb-free
Halide free

NCV33164, 4.27 V, Active Low
SOIC-8
751-07
1
260
Tape and Reel
2500
$0.2667
NCV33164D-3R2
Obsolete

AEC Qualified
PPAP Capable

NCV33164, 2.65 V, Active Low
SOIC-8
751-07
1
235
Tape and Reel
2500
NCV33164D-5R2
Obsolete

AEC Qualified
PPAP Capable

NCV33164, 4.27 V, Active Low
SOIC-8
751-07
1
235
Tape and Reel
2500
| | | |
| --- | --- | --- |
| Market Leadtime (weeks) | : | Contact Factory |
| | | |
| --- | --- | --- |
| Market Leadtime (weeks) | : | Contact Factory |
| | | |
| --- | --- | --- |
| Market Leadtime (weeks) | : | Contact Factory |
| | | |
| --- | --- | --- |
| Market Leadtime (weeks) | : | Contact Factory |
Product
Description
Pricing ($/Unit)
Compliance
Status
Voltages Monitored
VCC Max (V)
V(TO) Typ (V)
IQ Typ (µA)
Reset Active State
Reset Timer
Manual Reset
Watchdog Timer
Package Type
NCV33164D-5R2G
$0.2667
Active
Case Outlines
751-07
Packages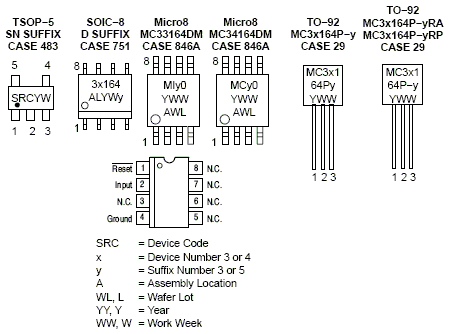 Application
Diagram - Block