NCP303: Voltage Detector Series with Programmable Delay and Open Drain N-Channel Output
The NCP/NCV302 and NCP/NCV303 series are second generation ultra-low current voltage detectors that contain a programmable time delay generator. These devices are specifically designed for use as reset controllers in portable microprocessor based systems where extended battery life is paramount.

Each series features a highly accurate under voltage detector with hysteresis and an externally programmable time delay generator. This combination of features prevents erratic system reset operation.The NCP/NCV302 series consists of complementary output devices that are available with either an active high or active low reset. The NCP/NCV303 series has an open drain N-channel output with an active low reset output.
Features
Benefits

NCV Version for Automotive

Quiescent Current of 0.5 uA Typical

High Accuracy Under Voltage Threshold of 2.0%

Externally Programmable Time Delay Generator

Wide Operating Voltage Range of 0.8 V to 10 V

Complementary or Open Drain Output

Active Low or Active High Reset

Pb-Free Packages are Available
Applications
Microprocessor Reset Controller
Low Battery Detection
Power Fail Indicator
Battery Backup Detection
Battery Backup Detection
Body Electronic
Occupant Protection
Braking
Infotainment
Instrument Cluster
Nagivator
Occupant Comfort
Powertrain
Technical Documentation & Design Resources
| | | | |
| --- | --- | --- | --- |
| | | | Interactive Block Diagram |
Case Outline
NCP303LSN09T1G
Active
NCP303, 0.9 V, Reset Low
TSOP-5 / SOT-23-5
483
1
260
Tape and Reel
3000
$0.1535
NCP303LSN09T2G
Active
NCP303, NCP303LSN09 in T2 T&R Orientation
TSOP-5 / SOT-23-5
483
1
260
Tape and Reel
3000
$0.236
NCP303LSN10T1G
Active
NCP303, 1.0 V, Reset Low
TSOP-5 / SOT-23-5
483
1
260
Tape and Reel
3000
Contact Sales Office
NCP303LSN11T1G
Active
NCP303, 1.1 V, Reset Low
TSOP-5 / SOT-23-5
483
1
260
Tape and Reel
3000
Contact Sales Office
NCP303LSN13T1G
Active
NCP303, 1.3 V, Reset Low
TSOP-5 / SOT-23-5
483
1
260
Tape and Reel
3000
Contact Sales Office
NCP303LSN14T1G
Active
NCP303, 1.4 V, Reset Low
TSOP-5 / SOT-23-5
483
1
260
Tape and Reel
3000
Contact Sales Office
NCP303LSN15T1G
Active
NCP303, 1.5 V, Reset Low
TSOP-5 / SOT-23-5
483
1
260
Tape and Reel
3000
Contact Sales Office
NCP303LSN16T1G
Active
NCP303, 1.6 V, Reset Low
TSOP-5 / SOT-23-5
483
1
260
Tape and Reel
3000
Contact Sales Office
NCP303LSN17T1G
Active
NCP303, 1.7 V, Reset Low
TSOP-5 / SOT-23-5
483
1
260
Tape and Reel
3000
Contact Sales Office
NCP303LSN18T1G
Active
NCP303, 1.8 V, Reset Low
TSOP-5 / SOT-23-5
483
1
260
Tape and Reel
3000
Contact Sales Office
NCP303LSN20T1G
Active
NCP303, 2.0 V, Reset Low
TSOP-5 / SOT-23-5
483
1
260
Tape and Reel
3000
$0.1535
NCP303LSN22T1G
Active
NCP303, 2.2 V, Reset Low
TSOP-5 / SOT-23-5
483
1
260
Tape and Reel
3000
$0.1705
NCP303LSN23T1G
Active
NCP303, 2.3 V, Reset Low
TSOP-5 / SOT-23-5
483
1
260
Tape and Reel
3000
Contact Sales Office
NCP303LSN24T1G
Active
NCP303, 2.4 V, Reset Low
TSOP-5 / SOT-23-5
483
1
260
Tape and Reel
3000
Contact Sales Office
NCP303LSN25T1G
Active
NCP303, 2.5 V, Reset Low
TSOP-5 / SOT-23-5
483
1
260
Tape and Reel
3000
Contact Sales Office
NCP303LSN26T1G
Active
NCP303, 2.6 V, Reset Low
TSOP-5 / SOT-23-5
483
1
260
Tape and Reel
3000
Contact Sales Office
NCP303LSN27T1G
Active
NCP303, 2.7 V, Reset Low
TSOP-5 / SOT-23-5
483
1
260
Tape and Reel
3000
$0.1929
NCP303LSN28T1G
Active
NCP303, 2.8 V, Reset Low
TSOP-5 / SOT-23-5
483
1
260
Tape and Reel
3000
$0.236
NCP303LSN29T1G
Active
NCP303, 2.9 V, Reset Low
TSOP-5 / SOT-23-5
483
1
260
Tape and Reel
3000
$0.1535
NCP303LSN30T1G
Active
NCP303, 3.0 V, Reset Low
TSOP-5 / SOT-23-5
483
1
260
Tape and Reel
3000
$0.1772
NCP303LSN31T1G
Active
NCP303, 3.1 V, Reset Low
TSOP-5 / SOT-23-5
483
1
260
Tape and Reel
3000
Contact Sales Office
NCP303LSN32T1G
Active
NCP303, 3.2 V, Reset Low
TSOP-5 / SOT-23-5
483
1
260
Tape and Reel
3000
Contact Sales Office
NCP303LSN33T1G
Active
NCP303, 3.3 V, Reset Low
TSOP-5 / SOT-23-5
483
1
260
Tape and Reel
3000
Contact Sales Office
NCP303LSN34T1G
Active
NCP303, 3.4 V, Reset Low
TSOP-5 / SOT-23-5
483
1
260
Tape and Reel
3000
Contact Sales Office
NCP303LSN36T1G
Active
NCP303, 3.6 V, Reset Low
TSOP-5 / SOT-23-5
483
1
260
Tape and Reel
3000
$0.236
NCP303LSN38T1G
Active
NCP303, 3.8 V, Reset Low
TSOP-5 / SOT-23-5
483
1
260
Tape and Reel
3000
Contact Sales Office
NCP303LSN40T1G
Active
NCP303, 4.0 V, Reset Low
TSOP-5 / SOT-23-5
483
1
260
Tape and Reel
3000
Contact Sales Office
NCP303LSN42T1G
Active
NCP303, 4.2 V, Reset Low
TSOP-5 / SOT-23-5
483
1
260
Tape and Reel
3000
Contact Sales Office
NCP303LSN44T1G
Active
NCP303, 4.4 V, Reset Low
TSOP-5 / SOT-23-5
483
1
260
Tape and Reel
3000
$0.236
NCP303LSN45T1G
Active
NCP303, 4.5 V, Reset Low
TSOP-5 / SOT-23-5
483
1
260
Tape and Reel
3000
$0.1559
NCP303LSN46T1G
Active
NCP303, 4.6 V, Reset Low
TSOP-5 / SOT-23-5
483
1
260
Tape and Reel
3000
Contact Sales Office
NCP303LSN47T1G
Active
NCP303, 4.7 V, Reset Low
TSOP-5 / SOT-23-5
483
1
260
Tape and Reel
3000
Contact Sales Office
NCP303LSN49T1G
Active
NCP303, 4.9 V, Reset Low
TSOP-5 / SOT-23-5
483
1
260
Tape and Reel
3000
Contact Sales Office
NCV303LSN09T1G
Active

AEC Qualified
PPAP Capable
Pb-free
Halide free

NCP303, 0.9V, Reset Low, Auto
TSOP-5 / SOT-23-5
483
1
260
Tape and Reel
3000
$0.3067
NCV303LSN11T1G
Active

AEC Qualified
PPAP Capable
Pb-free
Halide free

NCP303
TSOP-5 / SOT-23-5
483
1
260
Tape and Reel
3000
$0.3067
NCV303LSN22T1G
Active

AEC Qualified
PPAP Capable
Pb-free
Halide free

NCP303
TSOP-5 / SOT-23-5
483
1
260
Tape and Reel
3000
$0.3067
NCV303LSN24T1G
Active

AEC Qualified
PPAP Capable
Pb-free
Halide free

NCP303, 2.4 V, Reset Low
TSOP-5 / SOT-23-5
483
1
260
Tape and Reel
3000
$0.3067
NCV303LSN25T1G
Active

AEC Qualified
PPAP Capable
Pb-free
Halide free

NCP303, 2.5V, Reset Low, Auto
TSOP-5 / SOT-23-5
483
1
260
Tape and Reel
3000
$0.3067
NCV303LSN27T1G
Active

AEC Qualified
PPAP Capable
Pb-free
Halide free

NCP303, VOLTAGE DETECTOR 2.7V AUTO
TSOP-5 / SOT-23-5
483
1
260
Tape and Reel
3000
$0.2112
NCV303LSN31T1G
Active

AEC Qualified
PPAP Capable
Pb-free
Halide free

NCP303
TSOP-5 / SOT-23-5
483
1
260
Tape and Reel
3000
$0.2
NCV303LSN34T1G
Active

AEC Qualified
PPAP Capable
Pb-free
Halide free

NCP303
TSOP-5 / SOT-23-5
483
1
260
Tape and Reel
3000
$0.3067
NCV303LSN40T1G
Active

AEC Qualified
PPAP Capable
Pb-free
Halide free

NCP303, Undervoltage Detector
TSOP-5 / SOT-23-5
483
1
260
Tape and Reel
3000
$0.3067
NCP303LSN09T1
Obsolete
NCP303, 0.9 V, Reset Low
TSOP-5 / SOT-23-5
483
1
235
Tape and Reel
3000
NCP303LSN11T1
Obsolete
NCP303, 1.1 V, Reset Low
TSOP-5 / SOT-23-5
483
1
235
Tape and Reel
3000
NCP303LSN13T1
Obsolete
NCP303, 1.3 V, Reset Low
TSOP-5 / SOT-23-5
483
1
235
Tape and Reel
3000
NCP303LSN14T1
Obsolete
NCP303, 1.4 V, Reset Low
TSOP-5 / SOT-23-5
483
1
235
Tape and Reel
3000
NCP303LSN15T1
Obsolete
NCP303, 1.5 V, Reset Low
TSOP-5 / SOT-23-5
483
1
235
Tape and Reel
3000
NCP303LSN16T1
Obsolete
NCP303, 1.6 V, Reset Low
TSOP-5 / SOT-23-5
483
1
235
Tape and Reel
3000
NCP303LSN17T1
Obsolete
NCP303, 1.7 V, Reset Low
TSOP-5 / SOT-23-5
483
NA
Tape and Reel
3000
NCP303LSN18T1
Obsolete
NCP303, 1.8 V, Reset Low
TSOP-5 / SOT-23-5
483
1
235
Tape and Reel
3000
NCP303LSN20T1
Obsolete
NCP303, 2.0 V, Reset Low
TSOP-5 / SOT-23-5
483
1
235
Tape and Reel
3000
NCP303LSN22T1
Obsolete
NCP303, 2.2 V, Reset Low
TSOP-5 / SOT-23-5
483
1
235
Tape and Reel
3000
NCP303LSN23T1
Obsolete
NCP303, 2.3 V, Reset Low
TSOP-5 / SOT-23-5
483
1
235
Tape and Reel
3000
NCP303LSN24T1
Obsolete
NCP303, 2.4 V, Reset Low
TSOP-5 / SOT-23-5
483
1
235
Tape and Reel
3000
NCP303LSN25T1
Obsolete
NCP303, 2.5 V, Reset Low
TSOP-5 / SOT-23-5
483
1
235
Tape and Reel
3000
NCP303LSN26T1
Obsolete
NCP303, 2.6 V, Reset Low
TSOP-5 / SOT-23-5
483
1
235
Tape and Reel
3000
NCP303LSN27T1
Obsolete
NCP303, 2.7 V, Reset Low
TSOP-5 / SOT-23-5
483
1
235
Tape and Reel
3000
NCP303LSN28T1
Obsolete
NCP303, 2.8 V, Reset Low
TSOP-5 / SOT-23-5
483
1
235
Tape and Reel
3000
NCP303LSN29T1
Obsolete
NCP303, 2.9 V, Reset Low
TSOP-5 / SOT-23-5
483
1
235
Tape and Reel
3000
NCP303LSN30T1
Obsolete
NCP303, 3.0 V, Reset Low
TSOP-5 / SOT-23-5
483
1
235
Tape and Reel
3000
NCP303LSN31T1
Obsolete
NCP303, 3.1 V, Reset Low
TSOP-5 / SOT-23-5
483
1
235
Tape and Reel
3000
NCP303LSN32T1
Obsolete
NCP303, 3.2 V, Reset Low
TSOP-5 / SOT-23-5
483
1
235
Tape and Reel
3000
NCP303LSN33T1
Obsolete
NCP303, 3.3 V, Reset Low
TSOP-5 / SOT-23-5
483
1
235
Tape and Reel
3000
NCP303LSN34T1
Obsolete
NCP303, 3.4 V, Reset Low
TSOP-5 / SOT-23-5
483
1
235
Tape and Reel
3000
NCP303LSN36T1
Obsolete
NCP303, 3.6 V, Reset Low
TSOP-5 / SOT-23-5
483
1
235
Tape and Reel
3000
NCP303LSN38T1
Obsolete
NCP303, 3.8 V, Reset Low
TSOP-5 / SOT-23-5
483
1
235
Tape and Reel
3000
NCP303LSN40T1
Obsolete
NCP303, 4.0 V, Reset Low
TSOP-5 / SOT-23-5
483
1
235
Tape and Reel
3000
NCP303LSN42T1
Obsolete
NCP303, 4.2 V, Reset Low
TSOP-5 / SOT-23-5
483
1
235
Tape and Reel
3000
NCP303LSN44T1
Obsolete
NCP303, 4.4 V, Reset Low
TSOP-5 / SOT-23-5
483
1
235
Tape and Reel
3000
NCP303LSN45T1
Obsolete
NCP303, 4.5 V, Reset Low
TSOP-5 / SOT-23-5
483
1
235
Tape and Reel
3000
NCP303LSN46T1
Obsolete
NCP303, 4.6 V, Reset Low
TSOP-5 / SOT-23-5
483
1
235
Tape and Reel
3000
NCP303LSN47T1
Obsolete
NCP303, 4.7 V, Reset Low
TSOP-5 / SOT-23-5
483
1
235
Tape and Reel
3000
NCP303LSN49T1
Obsolete
NCP303, 4.9 V, Reset Low
TSOP-5 / SOT-23-5
483
1
235
Tape and Reel
3000
| | | |
| --- | --- | --- |
| Market Leadtime (weeks) | : | Contact Factory |
| PandS (2020-09-14 00:00) | : | >1K |
| Avnet (2020-08-19 00:00) | : | >10K |
| FutureElectronics (2020-08-19 00:00) | : | >1K |
| | | |
| --- | --- | --- |
| Market Leadtime (weeks) | : | Contact Factory |
| ON Semiconductor (2020-09-02 00:00) | : | 42,000 |
| | | |
| --- | --- | --- |
| Market Leadtime (weeks) | : | Contact Factory |
| PandS (2020-09-14 00:00) | : | >1K |
| | | |
| --- | --- | --- |
| Market Leadtime (weeks) | : | Contact Factory |
| PandS (2020-09-14 00:00) | : | >1K |
| | | |
| --- | --- | --- |
| Market Leadtime (weeks) | : | 8 to 12 |
| PandS (2020-09-14 00:00) | : | >1K |
| | | |
| --- | --- | --- |
| Market Leadtime (weeks) | : | Contact Factory |
| PandS (2020-09-14 00:00) | : | >1K |
| | | |
| --- | --- | --- |
| Market Leadtime (weeks) | : | 8 to 12 |
| | | |
| --- | --- | --- |
| Market Leadtime (weeks) | : | Contact Factory |
| PandS (2020-09-14 00:00) | : | >1K |
| | | |
| --- | --- | --- |
| Market Leadtime (weeks) | : | Contact Factory |
| ON Semiconductor (2020-09-02 00:00) | : | 24,000 |
| | | |
| --- | --- | --- |
| Market Leadtime (weeks) | : | Contact Factory |
| PandS (2020-09-14 00:00) | : | >1K |
| | | |
| --- | --- | --- |
| Market Leadtime (weeks) | : | Contact Factory |
| PandS (2020-09-14 00:00) | : | >1K |
| | | |
| --- | --- | --- |
| Market Leadtime (weeks) | : | Contact Factory |
| | | |
| --- | --- | --- |
| Market Leadtime (weeks) | : | Contact Factory |
| PandS (2020-09-14 00:00) | : | >1K |
| | | |
| --- | --- | --- |
| Market Leadtime (weeks) | : | Contact Factory |
| PandS (2020-09-14 00:00) | : | <100 |
| | | |
| --- | --- | --- |
| Market Leadtime (weeks) | : | Contact Factory |
| PandS (2020-09-14 00:00) | : | >1K |
| | | |
| --- | --- | --- |
| Market Leadtime (weeks) | : | Contact Factory |
| | | |
| --- | --- | --- |
| Market Leadtime (weeks) | : | Contact Factory |
| PandS (2020-09-14 00:00) | : | <100 |
| FutureElectronics (2020-08-19 00:00) | : | >10K |
| | | |
| --- | --- | --- |
| Market Leadtime (weeks) | : | Contact Factory |
| PandS (2020-09-14 00:00) | : | >1K |
| | | |
| --- | --- | --- |
| Market Leadtime (weeks) | : | Contact Factory |
| Avnet (2020-08-19 00:00) | : | >1K |
| PandS (2020-09-14 00:00) | : | >1K |
| FutureElectronics (2020-08-19 00:00) | : | >1K |
| | | |
| --- | --- | --- |
| Market Leadtime (weeks) | : | Contact Factory |
| FutureElectronics (2020-08-19 00:00) | : | >10K |
| PandS (2020-09-14 00:00) | : | >1K |
| | | |
| --- | --- | --- |
| Market Leadtime (weeks) | : | Contact Factory |
| FutureElectronics (2020-08-19 00:00) | : | >1K |
| PandS (2020-09-14 00:00) | : | <100 |
| | | |
| --- | --- | --- |
| Market Leadtime (weeks) | : | Contact Factory |
| PandS (2020-09-14 00:00) | : | >1K |
| | | |
| --- | --- | --- |
| Market Leadtime (weeks) | : | Contact Factory |
| Avnet (2020-08-19 00:00) | : | >1K |
| PandS (2020-09-14 00:00) | : | >10K |
| | | |
| --- | --- | --- |
| Market Leadtime (weeks) | : | Contact Factory |
| PandS (2020-09-14 00:00) | : | >1K |
| | | |
| --- | --- | --- |
| Market Leadtime (weeks) | : | 17 to 20 |
| FutureElectronics (2020-08-19 00:00) | : | >1K |
| PandS (2020-09-14 00:00) | : | <1K |
| | | |
| --- | --- | --- |
| Market Leadtime (weeks) | : | 13 to 16 |
| ON Semiconductor (2020-09-02 00:00) | : | 21,000 |
| | | |
| --- | --- | --- |
| Market Leadtime (weeks) | : | Contact Factory |
| FutureElectronics (2020-08-19 00:00) | : | >1K |
| PandS (2020-09-14 00:00) | : | >1K |
| | | |
| --- | --- | --- |
| Market Leadtime (weeks) | : | Contact Factory |
| PandS (2020-09-14 00:00) | : | >1K |
| | | |
| --- | --- | --- |
| Market Leadtime (weeks) | : | Contact Factory |
| PandS (2020-09-14 00:00) | : | >1K |
| | | |
| --- | --- | --- |
| Market Leadtime (weeks) | : | Contact Factory |
| Avnet (2020-08-19 00:00) | : | >1K |
| FutureElectronics (2020-08-19 00:00) | : | >1K |
| | | |
| --- | --- | --- |
| Market Leadtime (weeks) | : | 13 to 16 |
| | | |
| --- | --- | --- |
| Market Leadtime (weeks) | : | Contact Factory |
| ON Semiconductor (2020-09-02 00:00) | : | 24,000 |
| FutureElectronics (2020-08-19 00:00) | : | >1K |
| | | |
| --- | --- | --- |
| Market Leadtime (weeks) | : | Contact Factory |
| PandS (2020-09-14 00:00) | : | >1K |
| | | |
| --- | --- | --- |
| Market Leadtime (weeks) | : | Contact Factory |
| | | |
| --- | --- | --- |
| Market Leadtime (weeks) | : | 8 to 12 |
| | | |
| --- | --- | --- |
| Market Leadtime (weeks) | : | Contact Factory |
| | | |
| --- | --- | --- |
| Market Leadtime (weeks) | : | 17 to 20 |
| | | |
| --- | --- | --- |
| Market Leadtime (weeks) | : | Contact Factory |
| | | |
| --- | --- | --- |
| Market Leadtime (weeks) | : | Contact Factory |
| FutureElectronics (2020-08-19 00:00) | : | >1K |
| | | |
| --- | --- | --- |
| Market Leadtime (weeks) | : | 8 to 12 |
| ON Semiconductor (2020-09-02 00:00) | : | 60,000 |
| | | |
| --- | --- | --- |
| Market Leadtime (weeks) | : | Contact Factory |
| | | |
| --- | --- | --- |
| Market Leadtime (weeks) | : | Contact Factory |
| | | |
| --- | --- | --- |
| Market Leadtime (weeks) | : | Contact Factory |
| | | |
| --- | --- | --- |
| Market Leadtime (weeks) | : | Contact Factory |
| | | |
| --- | --- | --- |
| Market Leadtime (weeks) | : | Contact Factory |
| | | |
| --- | --- | --- |
| Market Leadtime (weeks) | : | Contact Factory |
| | | |
| --- | --- | --- |
| Market Leadtime (weeks) | : | Contact Factory |
| | | |
| --- | --- | --- |
| Market Leadtime (weeks) | : | Contact Factory |
| | | |
| --- | --- | --- |
| Market Leadtime (weeks) | : | Contact Factory |
| | | |
| --- | --- | --- |
| Market Leadtime (weeks) | : | Contact Factory |
| | | |
| --- | --- | --- |
| Market Leadtime (weeks) | : | Contact Factory |
| | | |
| --- | --- | --- |
| Market Leadtime (weeks) | : | Contact Factory |
| | | |
| --- | --- | --- |
| Market Leadtime (weeks) | : | Contact Factory |
| | | |
| --- | --- | --- |
| Market Leadtime (weeks) | : | Contact Factory |
| | | |
| --- | --- | --- |
| Market Leadtime (weeks) | : | Contact Factory |
| | | |
| --- | --- | --- |
| Market Leadtime (weeks) | : | Contact Factory |
| | | |
| --- | --- | --- |
| Market Leadtime (weeks) | : | Contact Factory |
| | | |
| --- | --- | --- |
| Market Leadtime (weeks) | : | Contact Factory |
| | | |
| --- | --- | --- |
| Market Leadtime (weeks) | : | Contact Factory |
| | | |
| --- | --- | --- |
| Market Leadtime (weeks) | : | Contact Factory |
| | | |
| --- | --- | --- |
| Market Leadtime (weeks) | : | Contact Factory |
| | | |
| --- | --- | --- |
| Market Leadtime (weeks) | : | Contact Factory |
| | | |
| --- | --- | --- |
| Market Leadtime (weeks) | : | Contact Factory |
| | | |
| --- | --- | --- |
| Market Leadtime (weeks) | : | Contact Factory |
| | | |
| --- | --- | --- |
| Market Leadtime (weeks) | : | Contact Factory |
| | | |
| --- | --- | --- |
| Market Leadtime (weeks) | : | Contact Factory |
| | | |
| --- | --- | --- |
| Market Leadtime (weeks) | : | Contact Factory |
| | | |
| --- | --- | --- |
| Market Leadtime (weeks) | : | Contact Factory |
| | | |
| --- | --- | --- |
| Market Leadtime (weeks) | : | Contact Factory |
| | | |
| --- | --- | --- |
| Market Leadtime (weeks) | : | Contact Factory |
| | | |
| --- | --- | --- |
| Market Leadtime (weeks) | : | Contact Factory |
| | | |
| --- | --- | --- |
| Market Leadtime (weeks) | : | Contact Factory |
| | | |
| --- | --- | --- |
| Market Leadtime (weeks) | : | Contact Factory |
Product
Description
Pricing ($/Unit)
Compliance
Status
Voltages Monitored
VCC Max (V)
V(TO) Typ (V)
IQ Typ (µA)
Reset Active State
Reset Timer
Manual Reset
Watchdog Timer
Package Type
Case Outlines
483
Packages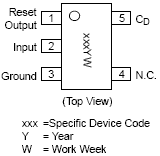 Application
Diagram - Block