MAX803: Voltage Supervisor, Very Low Supply Current, 3-Pin Microprocessor, Reset Monitor
The MAX803/NCP803 is a cost-effective system supervisor circuit designed to monitor VCC in digital systems and provide a reset signal to the host processor when necessary. No external components are required.

The reset output is driven active within 10 µsec of VCC falling through the reset voltage threshold. Reset is maintained active for a timeout period which trimmed by factor after VCC rises above the reset threshold. The MAX803/NCP803 has an open drain active-low RESET(bar) output. The output of the MAX803/NCP803 is guaranteed valid down to VCC = 1.0 V and is available in a SOT-23 and SC-70 package.

The MAX803/NCP803 is optimized to reject fast transient glitches on the VCC line. Low supply current of 0.5 µA (VCC = 3.3 V) make this device suitable for battery powered applications.
Features

Precision VCC Monitor for 1.5 V, 1.8V, 2.5 V, 3.0 V, 3.3 V and 5.0 V supplies

Precision Monitoring Voltages from 1.2 V to 4.9 V Available in 100 mV Steps

Four Guaranteed Minimum RESET Output Duration
(1ms, 20ms, 100ms and 140ms)

RESET Output Guaranteed to VCC = 1.0 V

Low 0.5 uA Supply Current

Small SOT-23 and SC-70 Package

Wide Operating Temperature: -40°C to 105°C
Applications
Computers
Embedded Systems
Battery Powered Equipment
Critical A Power Supply Monitoring
Technical Documentation & Design Resources
| | | | |
| --- | --- | --- | --- |
| | | | Interactive Block Diagram |
Case Outline
MAX803SQ120T1G
Active
MAX803, 1.20 V, 140 ms minimum delay
SC-70-3 / SOT-323-3
419-04
1
260
Tape and Reel
3000
Contact Sales Office
MAX803SQ263T1G
Active
MAX803, 2.63 V, 140 ms minimum delay
SC-70-3 / SOT-323-3
419-04
1
260
Tape and Reel
3000
$0.236
MAX803SQ293D1T1G
Active
MAX803, 2.93 V, 1.0 ms minimum delay
SC-70-3 / SOT-323-3
419-04
1
260
Tape and Reel
3000
$0.236
MAX803SQ293D2T1G
Active
MAX803, 2.93 V, 20 ms minimum delay
SC-70-3 / SOT-323-3
419-04
1
260
Tape and Reel
3000
$0.236
MAX803SQ293D3T1G
Active
MAX803, 2.93 V, 100 ms minimum delay
SC-70-3 / SOT-323-3
419-04
1
260
Tape and Reel
3000
$0.1589
MAX803SQ293T1G
Active
MAX803, 2.93 V, 140 ms minimum delay
SC-70-3 / SOT-323-3
419-04
1
260
Tape and Reel
3000
$0.2348
MAX803SQ308D2T1G
Active
MAX803, 3.08 V, 20 ms minimum delay
SC-70-3 / SOT-323-3
419-04
1
260
Tape and Reel
3000
$0.2017
MAX803SQ308T1G
Active
MAX803, 3.08 V, 140 ms minimum delay
SC-70-3 / SOT-323-3
419-04
1
260
Tape and Reel
3000
$0.2017
MAX803SQ438T1G
Active
MAX803, 4.38 V, 140 ms minimum delay
SC-70-3 / SOT-323-3
419-04
1
260
Tape and Reel
3000
Contact Sales Office
MAX803SQ463T1G
Active
MAX803, 4.63 V, 140 ms minimum delay
SC-70-3 / SOT-323-3
419-04
1
260
Tape and Reel
3000
$0.1815
NCV803SQ308D2T1G
Active

AEC Qualified
PPAP Capable
Pb-free
Halide free

MAX803, AUTO 3.08V VTH UP RESET
SC-70-3 / SOT-323-3
419-04
1
260
Tape and Reel
3000
$0.236
NCV803SQ308T1G
Active

AEC Qualified
PPAP Capable
Pb-free
Halide free

MAX803, Auto 3.08V, 140ms minimum delay
SC-70-3 / SOT-323-3
419-04
1
260
Tape and Reel
3000
$0.2
| | | |
| --- | --- | --- |
| Market Leadtime (weeks) | : | Contact Factory |
| | | |
| --- | --- | --- |
| Market Leadtime (weeks) | : | Contact Factory |
| | | |
| --- | --- | --- |
| Market Leadtime (weeks) | : | 8 to 12 |
| ON Semiconductor (2020-09-02 00:00) | : | 18,000 |
| | | |
| --- | --- | --- |
| Market Leadtime (weeks) | : | Contact Factory |
| | | |
| --- | --- | --- |
| Market Leadtime (weeks) | : | Contact Factory |
| Avnet (2020-08-19 00:00) | : | >10K |
| | | |
| --- | --- | --- |
| Market Leadtime (weeks) | : | Contact Factory |
| | | |
| --- | --- | --- |
| Market Leadtime (weeks) | : | Contact Factory |
| Avnet (2020-08-19 00:00) | : | >1K |
| PandS (2020-09-14 00:00) | : | >1K |
| | | |
| --- | --- | --- |
| Market Leadtime (weeks) | : | Contact Factory |
| FutureElectronics (2020-08-19 00:00) | : | >10K |
| PandS (2020-09-14 00:00) | : | >1K |
| Avnet (2020-08-19 00:00) | : | >1K |
| | | |
| --- | --- | --- |
| Market Leadtime (weeks) | : | Contact Factory |
| | | |
| --- | --- | --- |
| Market Leadtime (weeks) | : | Contact Factory |
| PandS (2020-09-14 00:00) | : | <1K |
| | | |
| --- | --- | --- |
| Market Leadtime (weeks) | : | 8 to 12 |
| | | |
| --- | --- | --- |
| Market Leadtime (weeks) | : | 4 to 8 |
Product
Description
Pricing ($/Unit)
Compliance
Status
Voltages Monitored
VCC Max (V)
V(TO) Typ (V)
IQ Typ (µA)
Reset Active State
Reset Timer
Manual Reset
Watchdog Timer
Package Type
Case Outlines
419-04
Packages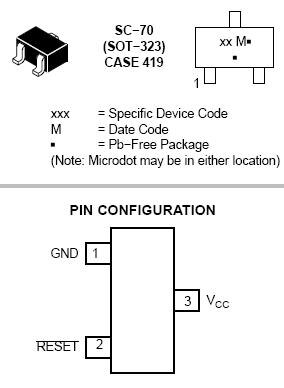 Application
Diagram - Block