The document you are trying to download is gated.
Log into MyON to proceed.
AMIS-30622: Stepper motor driver and controller with I2C Bus, microstepping features and stall detection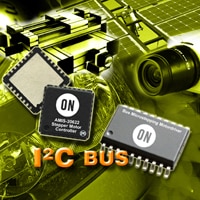 The AMIS-30622 is a member of a stepper motordriver family with position controller and control/diagnostics interface integrated in one single chip. The family consists of two products: AMIS-30621 with LIN interface, ready to build dedicated mechatronics solutions connected remotely with a LIN master. AMIS-30622 with SERIAL interface, ready to act as peripheral device next to a microcontroller. The chip receives high-level positioning instructions through the interface and subsequently drives the motor coils until the desired position is reached. The on-chip position controller is configurable (OTP and Interface) for different motor types, positioning ranges and parameters for speed, acceleration and deceleration. The AMIS-30622 acts as a slave on the bus and the master can fetch specific status information like actual position, error flags, etc. from each individual slave node.
Features

Microstepping (1/2, 1/4, 1/8, 1/16)

Programmable peak current up to 800mA

20kHz PWM current-control

Automatic selection of fast & slow decay mode

Fully integrated current sense

Full diagnostics and status information
Technical Documentation & Design Resources
Evaluation/Development Tool Information
| Product | Status | Compliance | Short Description | Action |
| --- | --- | --- | --- | --- |
| AM306227R1DBGEVB | Active | | Daughter Board I²C Stepper Driver (SOIC) Evaluation Board | |
| AM306228R1DBGEVB | Active | | Daughter Board I²C Stepper Driver NQFP Evaluation Board | |
| AMIS3062XGEVK | Active | | Industrial Stepper Motor Driver Evaluation Kit 3062X Family | |
Case Outline
AMIS30622C6227G
Lifetime
AMIS-30622
SOIC-20W
751AQ
2
260
Tube
38
$3.2933
AMIS30622C6227RG
Lifetime
AMIS-30622
SOIC-20W
751AQ
2
260
Tape and Reel
1500
$3.2933
AMIS30622C6228RG
Obsolete
AMIS-30622
NQFP-32
560AA
3
260
Tape and Reel
2500
| | | |
| --- | --- | --- |
| Market Leadtime (weeks) | : | Contact Factory |
| PandS (2020-09-14 00:00) | : | <100 |
| | | |
| --- | --- | --- |
| Market Leadtime (weeks) | : | Contact Factory |
| | | |
| --- | --- | --- |
| Market Leadtime (weeks) | : | Contact Factory |