The document you are trying to download is gated.
Log into MyON to proceed.
AMIS-30542: Stepper Motor Driver with Comprehensive Diagnostic Feedback and SLA Output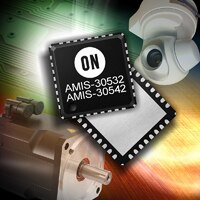 The AMIS-30542 is a micro-stepping stepper motor driver for bipolar stepper motors. The chip is connected through I/O pins and a SPI interface with an external microcontroller. It has an on-chip voltage regulator, reset-output and watchdog reset, able to supply peripheral devices. AMIS-30542 contains a current-translation table and takes the next micro-step depending on the clock signal on the NXT input pin and the status of the DIR (=direction) register or input pin. The chip provides a so-called speed and load angle output. This allows the creation of stall detection algorithms and control loops based on load-angle to adjust torque and speed. It is using a proprietary PWM algorithm for reliable current control. The AMIS-30542 is implemented in I2T100 technology, enabling both high-voltage analog circuitry and digital functionality on the same chip. The chip is fully compatible with the automotive voltage requirements. The AMIS-30542 is ideally suited for general-purpose stepper motor applications in the automotive, industrial, medical, and marine environment. With the on-chip voltage regulator it further reduces the BOM for mechatronic stepper applications.
Features

Dual H-Bridge for 2-Phase Stepper Motors

Programmable Peak-Current Up to 2.2 A Continuous (5 A Short Time) Using a 5-bit Current DAC

On-Chip Current Translator

Speed and Load Angle Output

Seven Step Modes from Full Step Up to 32 Micro-Steps

Fully Integrated Current-Sense

PWM Current Control with Automatic Selection of Fast and Slow Decay

Low EMC PWM with Selectable Voltage Slopes

Full Output Protection and Diagnosis

Thermal Warning and Shutdown

Compatible with 5 V and 3.3 V Microcontrollers

Integrated 5 V Regulator to Supply External Microcontroller

Integrated Reset Function to Reset External Microcontroller

Integrated Watchdog Function
Technical Documentation & Design Resources
Evaluation/Development Tool Information
| Product | Status | Compliance | Short Description | Action |
| --- | --- | --- | --- | --- |
| AMIS305XXGEVK | Consult Sales Office | | Industrial Stepper Motor Driver Evaluation Kit 305XX Family | |
Case Outline
AMIS30542C5421RG
Lifetime
AMIS-30542
NQFP-32
560AA
3
260
Tape and Reel
2500
$4.1199
| | | |
| --- | --- | --- |
| Market Leadtime (weeks) | : | Contact Factory |
| PandS (2020-09-14 00:00) | : | >1K |