NSI45060JD: LED Driver, Adjustable Constant Current Regulator, 45 V, 60 - 100 mA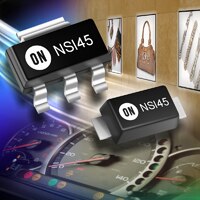 The adjustable constant current regulator (CCR) is a simple, economical and robust device designed to provide a cost effective solution for regulating current in LEDs (similar to Constant Current Diode, CCD). The CCR is based on Self-Biased Transistor (SBT) technology and regulates current over a wide voltage range. It is designed with a negative temperature coefficient to protect LEDs from thermal runaway at extreme voltages and currents. The CCR turns on immediately and is at 20% of regulation with only 0.5 V Vak. The Radj pin allows Ireg(SS) to be adjusted to higher currents by attaching a resistor between Radj (Pin 3) and the Cathode (Pin 4). The Radj pin can also be left open (No Connect) if no adjustment is required. It requires no external components allowing it to be designed as a high or low-side regulator. The high anode-cathode voltage rating withstands surges common in Automotive, Industrial and Commercial Signage applications. This device is available in a thermally robust package, which is lead-free RoHS compliant and uses halogen-free molding compound. Meets AEC-Q101 standard and UL94-V0 certified.
Features
Benefits

Robust Power Package: 2.7 Watts, Adjustable up to 100 mA, Wide Operating Voltage Range, Immediate Turn-On, Voltage Surge Suppressing - Protecting LEDs, UL94-V0 certified, SBT (SelfBiased Transistor) Technology, Negative Temperature Coefficient, Eliminates Additional Regulation, These Devices are Pb-Free, Halogen Free/BFR Free and are RoHS Compliant.

NSV Prefix for Automotive and Other Applications Requiring Unique Site and Control Change Requirements; AEC-Q101 Qualified and PPAP Capable
| Applications | | End Products |
| --- | --- | --- |
| LED Drive, Battery Charging, Contact Wetting | | Automotive - Cluster & Central Console Backlighting, Navigation/Audio Systems, Vanity Mirror Light, Car Door Puddle Light, Ambience Lighting, CHMSL, Turn Signals, Side Repeaters, Tail Lamps, Brake Lighting, Trailer lights & Contact Wetting. Display & Signage - Channel letters, Display backlighting, Neon bulb replacements, LED stripes & modules. Architectural lighting Decorative, Task, Exterior, Landscape & Under counter. Computing and Industrial Indicator lamps, Backlights |
Technical Documentation & Design Resources
| | | |
| --- | --- | --- |
| | | Interactive Block Diagram |
Case Outline
NSI45060JDT4G
Active
NSI45060JD
DPAK-3
369C
1
260
Tape and Reel
2500
$0.308
NSV45060JDT4G
Active

AEC Qualified
PPAP Capable
Pb-free
Halide free

NSI45060JD
DPAK-3
369C
1
260
Tape and Reel
2500
$0.34
| | | |
| --- | --- | --- |
| Market Leadtime (weeks) | : | Contact Factory |
| PandS (2020-09-14 00:00) | : | >1K |
| FutureElectronics (2020-08-19 00:00) | : | >100K |
| | | |
| --- | --- | --- |
| Market Leadtime (weeks) | : | Contact Factory |
| Avnet (2020-08-19 00:00) | : | >10K |
Product
Description
Pricing ($/Unit)
Compliance
Status
VI Max (V)
IO Max (mA)
LEDs in Series, Max #
LEDs in Parallel, Max #
Package Type
NSI45060JDT4G
$0.308
Active
NSV45060JDT4G
$0.34
Active
Application
Diagram - Block
New Products
NCV7691
NCV7692
:
Current Controllers for Automotive LED Lighting
Constant current output for LED string drive
Dedicated dimming feature via PWM input
Multiple LED string control with one controller
NCV7683
:
8-Channel Linear Current Driver for Automotive LED Lighting
Eight current sources with global current setting up to 100 mA and diagnostics
Global PWM duty cycle setting or configurable sequencing
Works standalone without MCU and with optional external MOSFET ballast transistor
Your request has been submitted for approval.
Please allow 2-5 business days for a response.
You will receive an email when your request is approved.
Request for this document already exists and is waiting for approval.