NSIC2020B: LED Driver, Constant Current Regulator, for A/C Offline Applications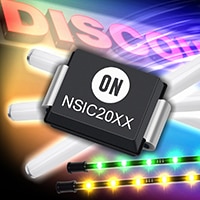 The linear constant current regulator (CCR) is a simple, economical and robust device designed to provide a cost-effective solution for regulating current in LEDs (similar to Constant Current Diode, CCD). The CCR is based on Self-Biased Transistor (SBT) technology and regulates current over a wide voltage range. It is designed with a negative temperature coefficient to protect LEDs from thermal runaway at extreme voltages and currents.
The CCR turns on immediately and is at 45% of regulation with only 0.5 V Vak. It requires no external components allowing it to be designed as a high or low-side regulator.
The 120 V anode-cathode voltage rating is designed to withstand the high peak voltage incurred in A/C offline applications. The high anode-cathode voltage also protects surges common in Industrial and Commercial Signage applications. The CCR comes in thermally robust packages and is UL94-V0 Certified.
Features
Benefits

Robust Power Package: 3 W, Wide operating voltage range, Immediate turn on, Voltage surge suppressing protecting LEDs, UL94-V0 Certified, SBT (Self Biased Transistor) Technology, Negative Temperature Coefficient, Also available in 50 mA (NSIC2050BT3G) and 30 mA
(NSIC2030BT3G), These devices are PB-Free, Halogen Free/BFR Free and are RoHS Compliant

High or Low side control, Simple Battery Charge, Reduce LED binning and therefore inventory, NO EMI
Applications
End Products

LED Drive, Battery Charging.

Architectural lighting - Decorative, Task, Exterior, Strip, Under Counter & Landscape. Display & Signage - Channel letters, Display backlighting, Neon bulb replacements, LED stripes & modules. Computing and Industrial - Indicator lamps, Backlights, Appliance lighting.
Automotive Applications - Consult Factory
Technical Documentation & Design Resources
Evaluation/Development Tool Information
| Product | Status | Compliance | Short Description | Action |
| --- | --- | --- | --- | --- |
| CCR230PS3AGEVB | Active | | Constant Current Regulator Driver Evaluation Board for LED Lighting Solutions, 230 V | |
| CCRACGEVB | Active | | NSIC Family of Constant Current Regulators Devices Evaluation Board | |
Case Outline
NSIC2020BT3G
Obsolete
NSIC2020B
SMB-2
403A-03
1
260
Tape and Reel
2500
| | | |
| --- | --- | --- |
| Market Leadtime (weeks) | : | Contact Factory |
New Products
NCV7683
:
8-Channel Linear Current Driver for Automotive LED Lighting
Eight current sources with global current setting up to 100 mA and diagnostics
Global PWM duty cycle setting or configurable sequencing
Works standalone without MCU and with optional external MOSFET ballast transistor
NCV7685
:
12-Channel Linear Current Driver for Automotive LED Lighting
Twelve current sources with global current setting up to 60 mA and diagnostics
Independent PWM duty cycle control via I2C for each channel
Operates as stand-alone or MCU-controlled, and with optional external MOSFET ballast transistor
Your request has been submitted for approval.
Please allow 2-5 business days for a response.
You will receive an email when your request is approved.
Request for this document already exists and is waiting for approval.