The document you are trying to download is gated.
Log into MyON to proceed.
NCP5612: White LED Driver, Charge Pump, 2-Channel, with S-Wire Link Control
The NCP5612 product is a dual output LED driver dedicated to the LCD display backlighting. The built-in DC-DC converter is based on a high efficient charge pump structure with operating mode 1x and 1.5x.It provides a peak 87% efficiency together with a 0.2% LED to LED matching.
Features

Support the Single Wire Serial Link protocol

Peak efficiency 90% with 1x and 1.5x mode

Programmable dimming ICON Function

Built-in Short Circuit Protection

Provides 16 steps current control

Controlled start-up inrush current

Built-in Automatic Open Load Protection

Tight 0.2% Matching Tolerance

Accurate 1% Output Current Tolerance

LCD and Key Board simultaneously drive

Built-in Short Circuit Protection
Applications
End Products

Portable Back Lighting
LCD and Keybaord Simultaneously Drive
Technical Documentation & Design Resources
Case Outline
NCP5612MUTBG
Last Shipments
NCP5612
LLGA-12
513AA
1
260
Tape and Reel
3000
| | | |
| --- | --- | --- |
| Market Leadtime (weeks) | : | Contact Factory |
| PandS (2020-09-14 00:00) | : | >1K |
Case Outlines
513AA
Packages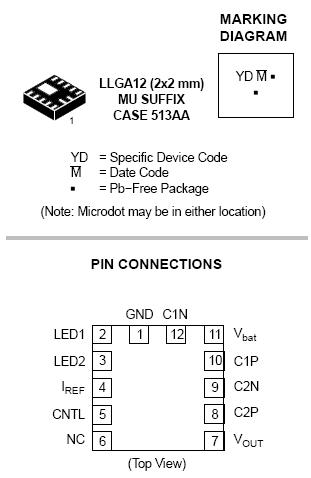 New Products
NCV7691
NCV7692
:
Current Controllers for Automotive LED Lighting
Constant current output for LED string drive
Dedicated dimming feature via PWM input
Multiple LED string control with one controller
NCV7683
:
8-Channel Linear Current Driver for Automotive LED Lighting
Eight current sources with global current setting up to 100 mA and diagnostics
Global PWM duty cycle setting or configurable sequencing
Works standalone without MCU and with optional external MOSFET ballast transistor