CAT4104: LED Driver, 4-Channels, 700 mA
The CAT4104 provides four matched low dropout current sinks to drive high-brightness LED strings up to 175 mA per channel. The LED channel current is set by an external resistor connected to the RSET pin. The LED pins are compatible with high voltage up to 25 V supporting applications with long strings of LEDs.

The EN/PWM logic input supports the device enable and high frequency external Pulse Width Modulation (PWM) dimming control.

Thermal shutdown protection is incorporated in the device to disable the LED outputs whenever the die temperature exceeds 150°C.
Features

4 matched LED current sinks up to 175 mA

Up to 25 V operation on LED pins

Low dropout Current Source (0.4 V at 175 mA)

LED current set by external resistor

High frequency PWM dimming via EN/PWM

Zero current Shutdown mode

Thermal shutdown protection
Applications
End Products

Automobiles
Architectural Lighting
Technical Documentation & Design Resources
| | | | | |
| --- | --- | --- | --- | --- |
| | | | | Interactive Block Diagram |
Case Outline
CAT4104V-GT3
Active
CAT4104
SOIC-8
751BD
1
260
Tape and Reel
3000
$0.4743
CAT4104VP2-GT3
Active
CAT4104
TDFN-8
511AK
1
260
Tape and Reel
3000
$0.4743
| | | |
| --- | --- | --- |
| Market Leadtime (weeks) | : | Contact Factory |
| PandS (2020-09-14 00:00) | : | >1K |
| | | |
| --- | --- | --- |
| Market Leadtime (weeks) | : | Contact Factory |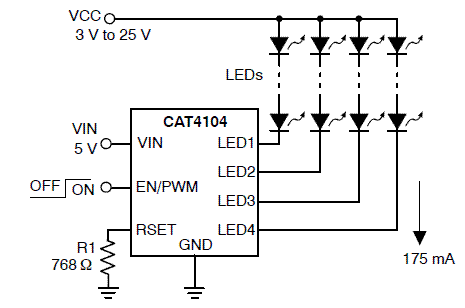 New Products
NCV7691
NCV7692
:
Current Controllers for Automotive LED Lighting
Constant current output for LED string drive
Dedicated dimming feature via PWM input
Multiple LED string control with one controller
NCV7685
:
12-Channel Linear Current Driver for Automotive LED Lighting
Twelve current sources with global current setting up to 60 mA and diagnostics
Independent PWM duty cycle control via I2C for each channel
Operates as stand-alone or MCU-controlled, and with optional external MOSFET ballast transistor