The document you are trying to download is gated.
Log into MyON to proceed.
CAT4101: LED Driver, 1 A Constant Current with PWM
The CAT4101 is a constant-current sink driving a string of high-brightness LEDs up to 1 A with very low dropout of 0.5 V at full load. It requires no inductor, provides a low noise operation and minimizes the number of components. The LED current is set by an external resistor connected to the RSET pin. The LED pin is compatible with high voltage up to 25 V, allowing the driving of long strings of LEDs. The device ensures an accurate and regulated current in the LEDs independent of supply and LED forward voltage variation. The PWM/EN input allows the device shutdown and the LED brightness adjustment by using an external pulse width modulation (PWM) signal. The driver features a thermal shutdown protection that becomes active whenever the die temperature exceeds 150C. The device is available in a high-power, 5-lead TO-263 package offering excellent thermal dissipation characteristics.
Features

Accurate 1 A Current Sink

Up to 25 V Operation on LED Pin

Low Dropout 500 mV at 1 A

LED Current Set by External Resistor

High Resolution PWM Dimming via EN/PWM

'Zero' current Shutdown mode

Thermal Shutdown Protection

TO263 (D2PAK) 5-lead Package

This Device is Pb-Free, Halogen Free/BFR Free and is RoHS Compliant
Applications
End Products

Architectural and General Lighting
Automotive Lighting
Technical Documentation & Design Resources
Case Outline
CAT4101TV-T75
Last Shipments
LED Driver, 1 A Constant Current with PWM
TO-263-5
221AE
3
260
Tape and Reel
750
| | | |
| --- | --- | --- |
| Market Leadtime (weeks) | : | Contact Factory |
| PandS (2020-07-12 00:00) | : | <1K |
Case Outlines
221AE
Packages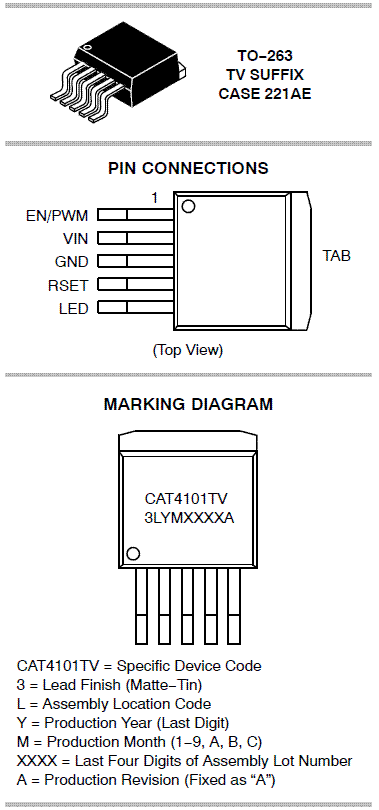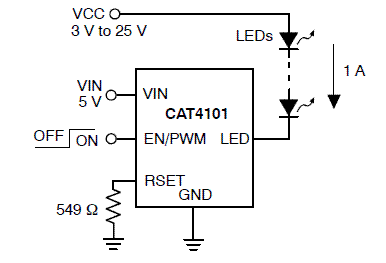 New Products
NCV7691
NCV7692
:
Current Controllers for Automotive LED Lighting
Constant current output for LED string drive
Dedicated dimming feature via PWM input
Multiple LED string control with one controller
NCV7683
:
8-Channel Linear Current Driver for Automotive LED Lighting
Eight current sources with global current setting up to 100 mA and diagnostics
Global PWM duty cycle setting or configurable sequencing
Works standalone without MCU and with optional external MOSFET ballast transistor