CAT4026: LED Controller, 6-Channel, with Fault Diagnostics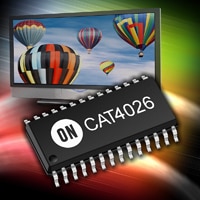 The CAT4026 is a high performance, large panel LED controller designed to control six constant current high voltage LED strings. Added control circuitry monitors the lowest cathode voltage and generates a feedback control signal to an external Switch Mode Power Supply (SMPS) to provide a low cost and efficient solution for large panel high voltage LED backlighting.

Each LED channel current is accurately matched and controlled by sensing an external resistor in series with a low cost bipolar power transistor. This allows current and heat dissipation concerns to be mitigated from the CAT4026 device package.

For added system reliability, both Open-Cathode-Anode (OCA) and Shorted-Cathode-Anode (SCA) fault detection circuitry has been included along with independent Fault flag logic outputs for diagnostic purposes.

LED current dimming in all six channels can be precisely controlled by either a Pulse Width Modulation signal via the PWM input pin or by an analog dimming voltage applied at the ANLG pin. In addition the ANLG pin provides a convenient method for limiting the overall maximum power dissipation in the event of excessive LED shorting within any LED string.

The device will automatically enter low current shutdown mode by taking the PWM pin low for an extended length of time.

Features
Benefits

Adaptive Feedback Control to External SMPS for Better Efficiency

Enhanced power efficiency of the external SMPS

PWM and Analog Mode Dimming

Extended range of dimming control

Open Cathode-Anode (OCA) Fault Protection

Robustness in case of LED disconnect or large LED string voltage mismatch

Short Cathode-Anode (SCA) Fault Protection

Thermal Shutdown Protection

Automatic Inactivity Power Down Mode
| Applications | | End Products |
| --- | --- | --- |
| | | |
Technical Documentation & Design Resources
Case Outline
CAT4026V-T1
Consult Sales Office
CAT4026
SOIC-28W
751BM
3
260
Tape and Reel
1000
| | | |
| --- | --- | --- |
| Market Leadtime (weeks) | : | Contact Factory |
| PandS (2020-09-14 00:00) | : | <1K |
Case Outlines
751BM
Packages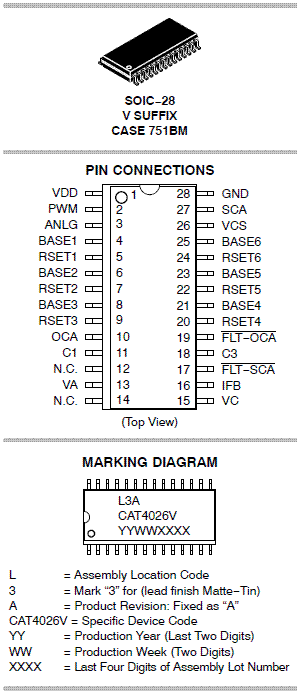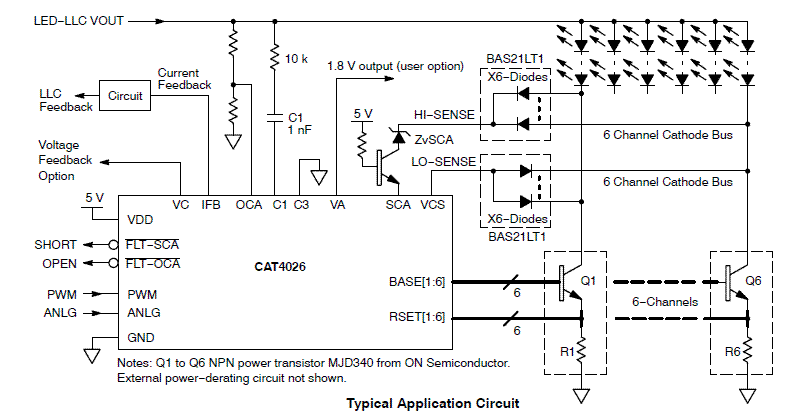 New Products
NCV7691
NCV7692
:
Current Controllers for Automotive LED Lighting
Constant current output for LED string drive
Dedicated dimming feature via PWM input
Multiple LED string control with one controller
NCV7683
:
8-Channel Linear Current Driver for Automotive LED Lighting
Eight current sources with global current setting up to 100 mA and diagnostics
Global PWM duty cycle setting or configurable sequencing
Works standalone without MCU and with optional external MOSFET ballast transistor