CAT4004: LED Driver, Constant Current, 4-Channel, with EZDim™
The CAT4004 provides four matched low dropout current sources to drive LEDs. An external resistor on RSET sets the current in the LED channels. Each LED channel includes an individual control loop allowing the device to handle a wide range of LED forward voltages while still maintaining tight current matching.

The EN/DIM logic inputs supports device enable and a digital dimming interface for current setting of all LEDs. Six different current dimming ratios are available.

The device is aimed at 'direct drive' battery applications. It is required that the battery or voltage source have enough headroom to drive the LED forward voltage and current sink (>150 mV).
Features

Four LED current sinks with tight matching

Low Dropout Driver 130 mV at 30 mA

LED current set by external resistor

Dimming via 1-wire EZDim™ interface

Thermal shutdown protection
Applications
End Products

Mobile Phones
Digital Still Cameras
Technical Documentation & Design Resources
Case Outline
CAT4004VP2-GT3
Consult Sales Office
CAT4004
TDFN-8
511AK
1
260
Tape and Reel
3000
CAT4004VP2-T3
Consult Sales Office
CAT4004
TDFN-8
511AK
1
260
Tape and Reel
3000
| | | |
| --- | --- | --- |
| Market Leadtime (weeks) | : | Contact Factory |
| PandS (2020-09-14 00:00) | : | >1K |
| | | |
| --- | --- | --- |
| Market Leadtime (weeks) | : | Contact Factory |
Case Outlines
511AK
Packages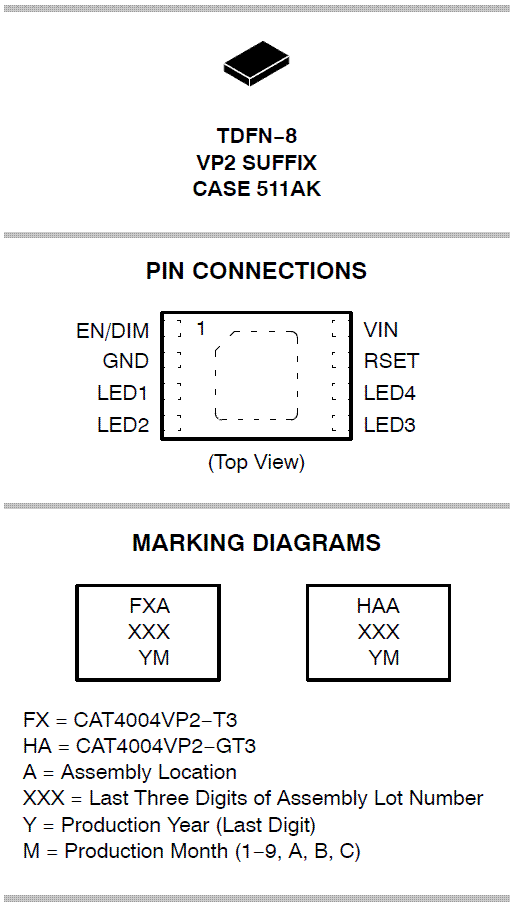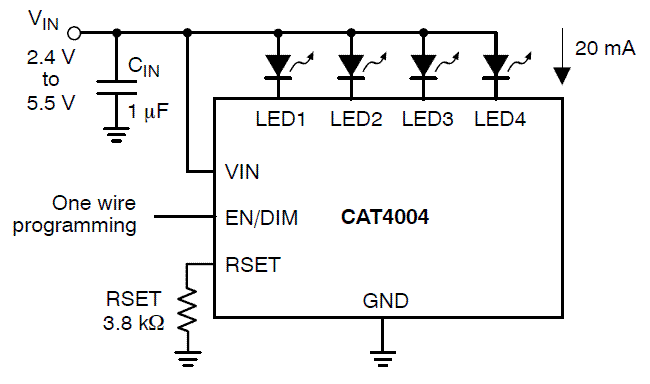 New Products
NCV7685
:
12-Channel Linear Current Driver for Automotive LED Lighting
Twelve current sources with global current setting up to 60 mA and diagnostics
Independent PWM duty cycle control via I2C for each channel
Operates as stand-alone or MCU-controlled, and with optional external MOSFET ballast transistor
NCV7691
NCV7692
:
Current Controllers for Automotive LED Lighting
Constant current output for LED string drive
Dedicated dimming feature via PWM input
Multiple LED string control with one controller