The document you are trying to download is gated.
Log into MyON to proceed.
CAT3606: LED Driver, Charge Pump, 6-Channel
The CAT3606 controls up to four LEDs for the main display and two LEDs for the sub-display in cellular phones. The device is capable of operating in either 1x (LDO) mode or 1.5x charge pump mode. All LED pin currents are regulated and tightly matched to achieve uniformity of brightness across the LCD backlight. An external resistor (R
SET
) sets the nominal output current.
The device can deliver as much as 20 mA per channel during low voltage operation (3 V), and 30 mA per channel during nominal operation (3.3 V). A constant high-frequency switching scheme (1MHz) provides low noise and allows the use of very small value ceramic capacitors.
A 'zero' quiescent current mode can be achieved via the chip enable pin EN. The Main and Sub LEDs each have their own dedicated ON/OFF control pins (
ENM
,
ENS
). Dimming can be achieved using either a DC voltage to control the R
SET
pin current, or by applying a PWM signal on the
ENM
and
ENS
pins
Features

Drives up to 4 main LEDs and 2 sub LEDs

Separate control for main and sub LEDs

Compatible with supply voltage of 3 V to 5.5 V

Power efficiency up to 90%

Output current up to 30mA per LED

High-frequency Operation at 1 MHz

2 modes of operation 1x and 1.5x

White LED detect circuitry on all channels

Shutdown current less than 1 µA

Soft start and current limiting
Applications
End Products

Color LCD and keypad Backlighting

Portable MP3 Players
Digital Cameras
Mobile Phones
Technical Documentation & Design Resources
Case Outline
CAT3606HV4-T2
Obsolete
CAT3606
TQFN-16
510AE
1
260
Tape and Reel
2000
| | | |
| --- | --- | --- |
| Market Leadtime (weeks) | : | Contact Factory |
Case Outlines
510AE
Packages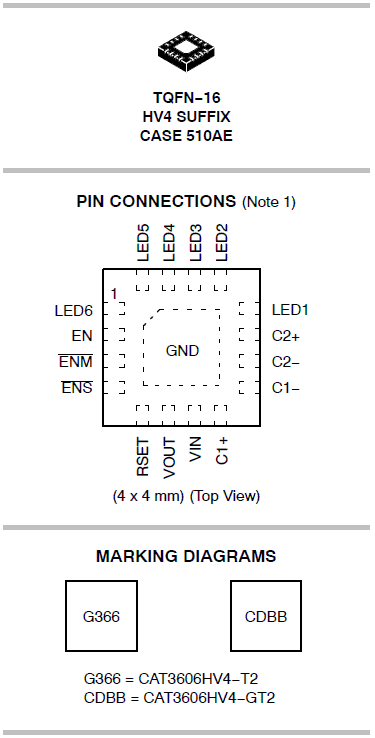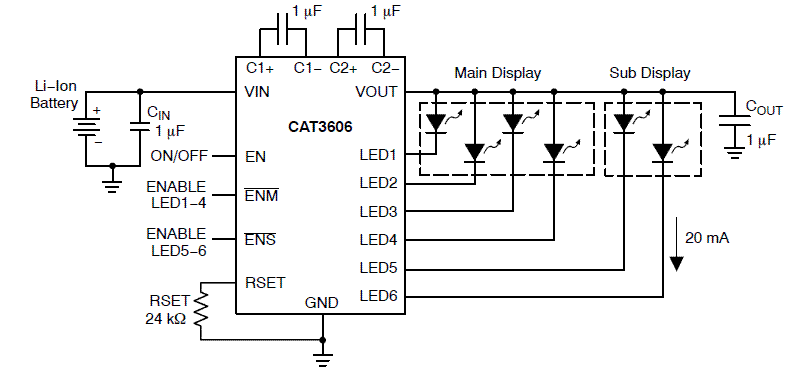 New Products
NCV7685
:
12-Channel Linear Current Driver for Automotive LED Lighting
Twelve current sources with global current setting up to 60 mA and diagnostics
Independent PWM duty cycle control via I2C for each channel
Operates as stand-alone or MCU-controlled, and with optional external MOSFET ballast transistor
NCV7691
NCV7692
:
Current Controllers for Automotive LED Lighting
Constant current output for LED string drive
Dedicated dimming feature via PWM input
Multiple LED string control with one controller