NCP1840: LED Driver, 8-Channel, Programmable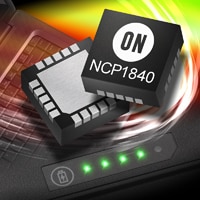 The NCP1840 is a highly integrated general purpose LED driver with the ability to drive up to eight LEDs. A high efficiency, low noise, charge pump allows the use of higher forward voltage LEDs while automatically maintaining a low operating battery voltage. Each of the eight driver currents is fully programmable, each utilizing a 5-bit current DAC. The current can be turned on or off achieving various dimming levels using a programmable 6-bit counter. The full-scale current of all eight current DACs is set by an external resistor. The NCP1840 requires only five small ceramic capacitors and one resistor to form a complete LED power supply and current controller. By utilizing a fourth mode (1.33x), the NCP1840's charge pump optimizes efficiency based on the voltage across the LED current sources. 1.33x mode can offer approximately 10 percent more efficiency than a typical 1.5x mode. The device powers up in 1x mode and will automatically boost to higher modes whenever any enabled LED current source begins to enter dropout. The first dropout switches the device into 1.33x mode, and subsequent dropouts switch the NCP1840 into 1.5x and 2x modes, respectively.
Features
Benefits

Programmable, Individual Output PWM Control with 6-Bit Counter


Increase dimming or blinking flexibility.

Eight 30 mA Universal Current Sources with 5-Bit Programmable Logarithmic Brightness Control

Eight LEDs in parallel can be lit. Logarithmic brightness levels best accommodate natural human eye viewing. 30mA gives a higher maximum brightness level if desired. Programming flexibility can accommodate customer's LED pattern animation.

Read/Write Serial Interface for Convenient Programming

Improved programming and troubleshooting because registers can be written to and read from. I2C instructions can also relieve system processor burden.

Patented (1X, 1.33X, 1.5X and 2X) Charge Pump for Higher Forward Voltage LEDs (e.g. 4.1 V)

Longer battery life in portable applications. A smaller PCB can be used because fewer external components are needed.

Soft-Start Power-On-Reset (POR)

Automatic device re-set, including soft start capability.
Applications
End Products

Notebook Battery Power Indicator
Multi-LED Status Indicators
Small Format Display Drivers
True-Green LED Applications

Notebook Computers
Toys and Games
Electronic Musical Instruments
Technical Documentation & Design Resources
Case Outline
NCP1840Q8A6MNG
Obsolete
NCP1840
QFN-20
485E
1
260
Tube
75
NCP1840Q8A6MNTWG
Obsolete
NCP1840
QFN-20
485E
1
260
Tape and Reel
2500
| | | |
| --- | --- | --- |
| Market Leadtime (weeks) | : | Contact Factory |
| | | |
| --- | --- | --- |
| Market Leadtime (weeks) | : | Contact Factory |
Case Outlines
485E
Packages