CAT4238: LED Driver, Boost Converter, High Efficiency
The CAT4238 is a DC-DC step-up converter that delivers an accurate constant current ideal for driving LEDs. Operation at a fixed switching frequency of 1 MHz allows the device to be used with small value external ceramic capacitors and inductor. LEDs connected in series are driven with a regulated current set by the external resistor R1. LED currents up to 40 mA can be supported over a wide range of input supply voltages up to 5.5 V, making the device ideal for battery-powered applications. The CAT4238 high-voltage output stage is perfect for driving mid-size and large panel displays containing up to ten white LEDs in series.

LED dimming can be done by using a DC voltage, a logic signal, or a pulse width modulation (PWM) signal. The shutdown input pin allows the device to be placed in power-down mode with 'zero' quiescent current.

In addition to thermal protection and overload current limiting, the device also enters a very low power operating mode during 'Open LED' fault conditions.
Features

Drives High Voltage LED strings (38 V)

Low Quiescent Ground Current 0.6 mA

Adjustable Output Current

1 MHz Fixed Frequency Low noise Operation

Soft start "in-rush" current limiting

Shutdown current less than 1 µA

Open LED Overvoltage Protection

Automatic Shutdown at 1.9 V (UVLO)

Thermal overload protection

Mid-size and Large Panel Displays
Applications
End Products

LED Drive in battery Powered Devices

GPS Navigation Systems
Portable Gaming Systems
Digital Still Cameras
Technical Documentation & Design Resources
Evaluation/Development Tool Information
| Product | Status | Compliance | Short Description | Action |
| --- | --- | --- | --- | --- |
| CAT4238AGEVB | Active | | High Voltage CMOS Constant-Current DC-DC Converter Evaluation Board | |
| | | | | |
| --- | --- | --- | --- | --- |
| | | | | Interactive Block Diagram |
Case Outline
CAT4238TD-GT3
Active
CAT4238
TSOT-23-5
419AE
1
260
Tape and Reel
3000
$0.4947
| | | |
| --- | --- | --- |
| Market Leadtime (weeks) | : | Contact Factory |
| FutureElectronics (2020-08-19 00:00) | : | >10K |
| PandS (2020-09-14 00:00) | : | >1K |
Product
Description
Pricing ($/Unit)
Compliance
Status
Topology
VIN Min (V)
VIN Max (V)
VO Max (V)
IO Max (mA)
fSW Typ (kHz)
Package Type
CAT4238TD-GT3
$0.4947
Active
Case Outlines
419AE
Packages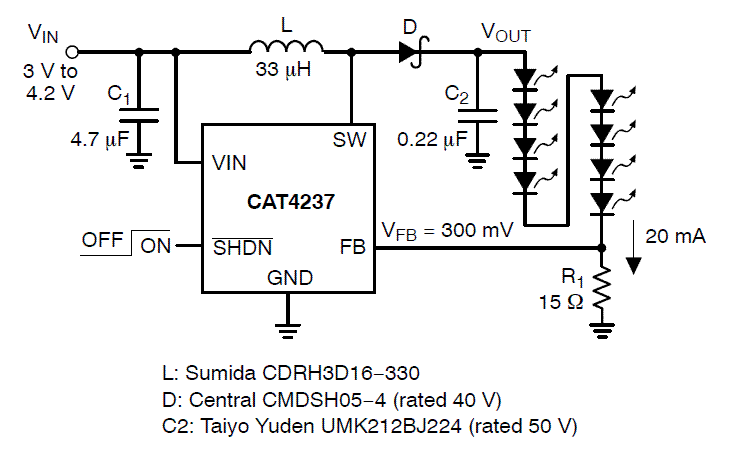 Application
Diagram - Block