CAT4201: LED Driver, 350 mA, Step-Down Converter
The CAT4201 is a high efficiency step-down converter optimized to drive high current LEDs. A patented switching control algorithm allows highly efficient and accurate LED current regulation. A single RSET resistor sets the full scale LED string current up to 350 mA from supplies as high as 36 V.

The switching architecture of the CAT4201 results in extremely low internal power dissipation allowing the device to be housed in a tiny package without the need for dedicated heat sinking. The device is compatible with switching frequencies of up to 1 MHz, making it ideal for applications requiring small footprint and low value external inductors.

Analog dimming and LED shutdown control is provided via a single input pin, CTRL. Additional features include overload current protection and thermal shutdown.
Features
Benefits

Power Efficiency up to 94%

Smaller, more efficient alternative to linear regulators for driving high-brightness LEDs in step-down applications.

LED Drive Current up to 350 mA

Compatible with 12 V and 24 V Standard Systems

Handles transients up to 40 V

Single Pin Control and Dimming function

Drives LED Strings of up to 32 V

Open and Short LED Protection

Parallel Configuration for Higher Output Current
Applications
End Products

12 V and 24 V Lighting Systems
High Brightness 350 mA LEDs

Automobiles and Aircraft
General Lighting
Technical Documentation & Design Resources
Evaluation/Development Tool Information
| Product | Status | Compliance | Short Description | Action |
| --- | --- | --- | --- | --- |
| CAT4201AGEVB | Active | | High Efficiency Step-Down Converter Evaluation Board | |
| | | | | |
| --- | --- | --- | --- | --- |
| | | | | Interactive Block Diagram |
Case Outline
CAT4201TD-GT3
Active
CAT4201
TSOT-23-5
419AE
1
260
Tape and Reel
3000
$0.7226
CAT4201V-GT3
Obsolete
CAT4201
SOIC-8
751BD
1
260
Tape and Reel
3000
| | | |
| --- | --- | --- |
| Market Leadtime (weeks) | : | Contact Factory |
| Avnet (2020-08-19 00:00) | : | >10K |
| PandS (2020-09-14 00:00) | : | >1K |
| | | |
| --- | --- | --- |
| Market Leadtime (weeks) | : | Contact Factory |
Product
Description
Pricing ($/Unit)
Compliance
Status
Topology
VIN Min (V)
VIN Max (V)
VO Max (V)
IO Max (mA)
fSW Typ (kHz)
Package Type
CAT4201TD-GT3
$0.7226
Active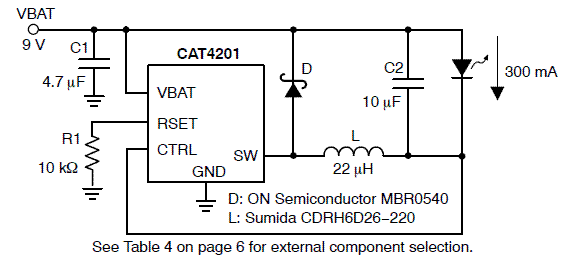 Application
Diagram - Block