CAT3661: LED Driver, Low Power, 1-Channel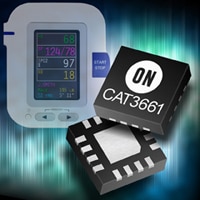 The CAT3661 is a high efficiency low power fractional charge pump that drives one LED with up to 5 mA of current. Soft-start current limiting and short-circuit protection are optimized for use with coin cell batteries.

Low noise input ripple and constant switching frequency allows the use of small external ceramic capacitors. This makes the CAT3661 ideal for EMI sensitive applications. The charge pump supports a wide range of input voltages from 2.0 V to 5.5 V.

The CAT3661 has a built-in circuitry to provide feedback to a microcontroller of Open/Short LED and Low battery events. The Low battery indicator trip point is internally fixed at 2.4 V. External resistors can be added to raise or lower the trip voltage, if needed.

The device is packaged in the tiny 16-lead TQFN 3 mm x 3 mm package with a max height of 0.8 mm.

The inclusion of a 1.33x fractional charge pump mode increases device efficiency by up to 10% over traditional 1.5x tri-mode charge pumps with no added external capacitors.
Features
Benefits

Quad Mode Charge Pump: 1x, 1.33x, 1.5x, 2x

Higher efficiency charge pump than competition, very compact solution, no inductor.

Low Quiescent Current 150 A Typical

High efficiency LED driver even at low LED current below 5mA.

Drives One LED up to 5 mA

Optimized for Coin Cell Battery Operation

Open/Short LED Fault Detection

Adjustable Low Battery Detection

Power Efficiency up to 92%

Low Noise Input Ripple in All Modes

Zero Current Shutdown Mode

Soft Start and Short Circuit Current Limiting

Thermal Shutdown Protection
Applications
Low Power LCD Display Backlight
Low Power Handheld Device Backlight
Technical Documentation & Design Resources
| | | | | |
| --- | --- | --- | --- | --- |
| | | | | Interactive Block Diagram |
Product
Description
Pricing ($/Unit)
Compliance
Status
Topology
VIN Min (V)
VIN Max (V)
VO Max (V)
IO Max (mA)
fSW Typ (kHz)
Package Type
CAT3661HV3-GT2
$0.6667
Active
Case Outlines
510AD
Packages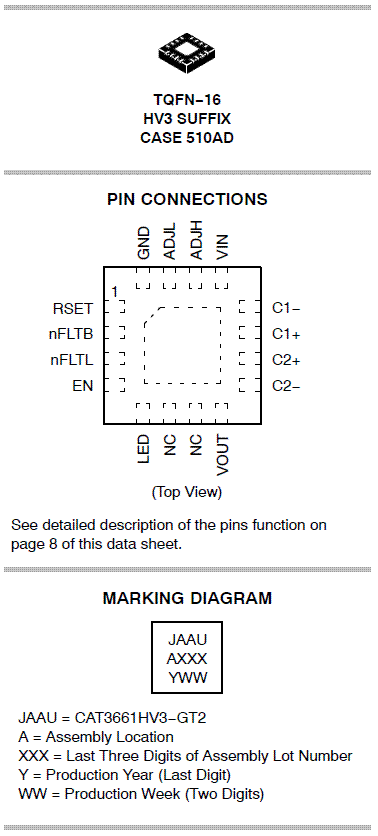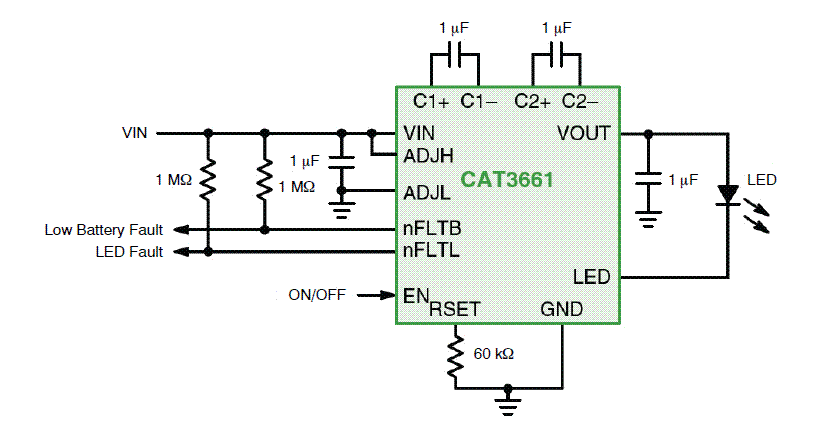 Application
Diagram - Block