CAT3649: LED Driver, 6-Channel, with 32 Dimming Levels and PWM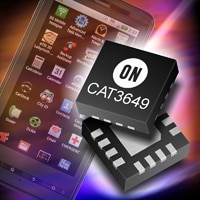 The CAT3649 is a high efficiency fractional charge pump that can drive up to six LEDs. The inclusion of a 1.33x fractional charge pump mode increases the device efficiency by up to 10% over traditional 1.5x charge pumps with no added external capacitors.

Low noise input ripple is achieved by operating at a constant switching frequency which allows the use of small external ceramic capacitors. The multi-fractional charge pump supports a wide range of input voltages from 2.4 V to 5.5 V.

The LED current can be adjusted in different ways. The full-scale LED current is set to 25 mA once the device is enabled. Analog dimming in 32 linear steps is achieved via a 1-wire pulse-dimming input (ADIM). Further adjustment of the LED current can be done by applying a pulse width modulation (PWM) signal on the PWM input. The PWM dimming control is compatible with content adaptive brightness control (CABC) for a wide range of PWM signal frequency up to 200 kHz.

The CAT3649 can be shut down by holding the ADIM or PWM input in a logic low condition for greater than 30 ms.
Features
Benefits

High Efficiency 1.33x Charge Pump

Highest efficiency charge pump.

Drives up to 6 LEDs at 25 mA Each

Compatible with larger size LCD used in smartphones.

PWM Dimming 100 Hz to 200 kHz for CABC

PWM dimming control compatible with content adaptive brightness control (CABC).

Quad-mode Charge Pump: 1x, 1.33x, 1.5x, 2x

1-wire EZDimTM 32 Linear Steps (ADIM)

Power Efficiency up to 92%

Low Noise Input Ripple in All Modes

Zero Current Shutdown Mode

Soft Start and Current Limiting

Thermal Shutdown Protection
Applications
End Products

Mobile Phones
Digital Still Cameras
Technical Documentation & Design Resources
Evaluation/Development Tool Information
| Product | Status | Compliance | Short Description | Action |
| --- | --- | --- | --- | --- |
| CAT3649AGEVB | Active | | High Efficiency Quad-Mode Fractional Charge Pump Evaluation Board | |
| | | | | |
| --- | --- | --- | --- | --- |
| | | | | Interactive Block Diagram |
Case Outline
CAT3649HV3-GT2
Active
CAT3649
TQFN-16
510AD
1
260
Tape and Reel
2000
$0.4693
| | | |
| --- | --- | --- |
| Market Leadtime (weeks) | : | 2 to 4 |
| ON Semiconductor (2020-09-02 00:00) | : | 46,000 |
Product
Description
Pricing ($/Unit)
Compliance
Status
Topology
VIN Min (V)
VIN Max (V)
VO Max (V)
IO Max (mA)
fSW Typ (kHz)
Package Type
CAT3649HV3-GT2
$0.4693
Active
Case Outlines
510AD
Packages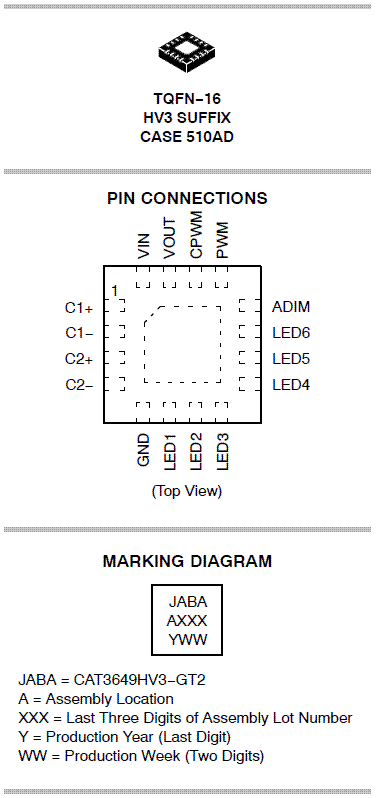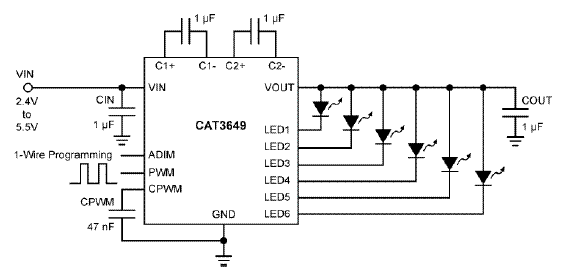 Application
Diagram - Block