CAT3604V: LED Driver, 4-Channel
The CAT3604V is a high efficiency fractional charge pump that can drive up to four LEDs with input supply voltages as low as 2.5V.

An external RSET resistor is used to control the LED channel brightness while channel diagnostics include automatic detection for both short and open LED channel conditions, ensuring the CAT3604V maintains the highest efficiency level in all operating modes.

Each operating mode uses a constant high frequency switching scheme which allows the use of small form factor external ceramic capacitors while delivering excellent low noise input supply ripple up to 5.5 volts.

The EN input control supports direct PWM dimming and can accommodate dimming frequencies in excess of 10kHz thereby providing extremely high resolution brightness levels.

The device is available in the 16-pad low profile 0.8mm thin QFN (4mm x 4mm).
Features

Quad-mode charge pump: 1x, 1.33x, 1.5x, 2x

Drives up to 4 LEDs at 30mA each

Pin compatible with industry standard '604

Open/short LED automatic detection

Power efficiency up to 92%

High resolution PWM dimming

Low noise supply ripple in all modes

Soft start and current limiting

Short circuit and thermal overload protection
Applications
End Products

Mobile Phones
Digital Still Cameras
Technical Documentation & Design Resources
| | | | | |
| --- | --- | --- | --- | --- |
| | | | | Intaractive Block Diagram |
Case Outline
CAT3604VHV4-GT2
Active
CAT3604V
TQFN-16
510AE
1
260
Tape and Reel
2000
$0.4284
| | | |
| --- | --- | --- |
| Market Leadtime (weeks) | : | Contact Factory |
Product
Description
Pricing ($/Unit)
Compliance
Status
Topology
VIN Min (V)
VIN Max (V)
VO Max (V)
IO Max (mA)
fSW Typ (kHz)
Package Type
CAT3604VHV4-GT2
$0.4284
Active
Case Outlines
510AE
Packages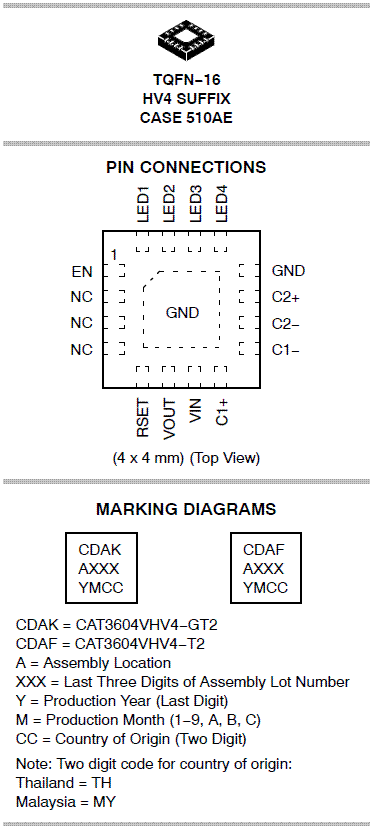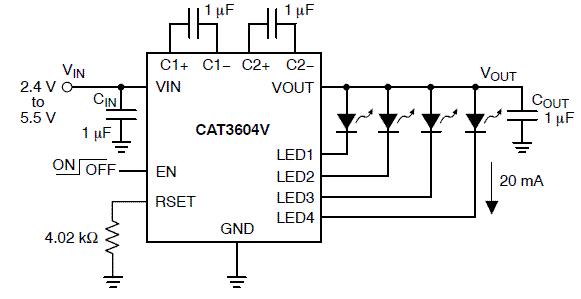 Application
Diagram - Block