The document you are trying to download is gated.
Log into MyON to proceed.
CAT3224: LED Driver, Charge Pump, 2-Channel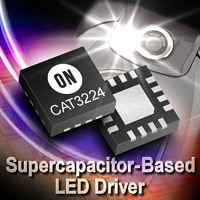 The CAT3224 is a very high current integrated flash LED driver which also supports the charging function for a dual-cell supercapacitor applications. Ideal for Li-ion battery-powered systems, it delivers up to 4.0 A LED flash pulses, far beyond the peak current capability of the battery.

Dual-mode 1x/2x charge pump charges the stacked supercapacitor to a nominal voltage of 5.4 V, while an active balance control circuit ensures that both capacitor cell voltages remain matched. The nominal charging current to be drawn from the battery is set by an external resistor tied to the RC pin.

The driver also features two matched current sources. External resistors provide the adjustment for the maximum flash mode current (up to 4.0 A) and the torch mode current (up to 400 mA). A built-in safety timer automatically terminates the flash pulse beyond a maximum duration of 300 ms.

In addition to thermal shutdown and overvoltage protection, the device is fully protected against external resistor programming faults and fully supports reverse output voltage for all conditions.

The device is packaged in the tiny 16-pad TQFN 3 mm x 3 mm package with a max height of 0.8 mm.
Features

2 channels at 2.0 A each in Flash mode

2 channels at 200 mA each in Torch mode

Adjustable charge current limit, up to 1000 mA

Dual-mode 1x/2x charge pump

Dual-cell supercapacitor balancing

Zero current shutdown mode
Technical Documentation & Design Resources
Case Outline
CAT3224HV3-GT2
Active
LED Driver, Charge Pump, 2-Channel
TQFN-16
510AD
1
260
Tape and Reel
2000
$1.2946
| | | |
| --- | --- | --- |
| Market Leadtime (weeks) | : | 4 to 8 |
| PandS (2020-05-21 00:00) | : | >1K |
Product
Description
Pricing ($/Unit)
Compliance
Status
Topology
VIN Min (V)
VIN Max (V)
VO Max (V)
IO Max (mA)
fSW Typ (kHz)
Package Type
CAT3224HV3-GT2
$1.2946
Active
Case Outlines
510AD
Packages