NCL30105: LED Driver, Flexible Dimmable Buck Controller
The NCL30105 is a peak current controlled fixed off time buck controller designed for LED driver applications. It is optimized to operate in deep continuous conduction mode eliminating the need for output electrolytic capacitors. Featuring an adjustable off time generator, the controller can drive a MOSFET up to a switching frequency of 500 kHz. A dedicated dimming pin enables the use of a pulsewidth modulated logic signal to dim the LED directly. The soft-start pin creates a startup sequence that slowly ramps up the peak current and enables the adjustment of the peak current set point for analog dimming control. The device features robust protection features to detect switch overcurrent faults and to detect maximum on time events.
Features
Benefits

Constant off time current mode control

No loop compensation required

Adjustable off time (0.5 to 10 µs)

Easily adjust operating frequency and output ripple

Internal leading edge blanking

Avoids false triggering during FET turn on

± 5% current sense accuracy

Accurate LED current regulation

Ensure stable operation during initial system turn on

PWM or Analog Dimming Control

Flexible support for dimmable LED lighting applications

Maximum on time protection

Enhanced system robustness
Applications
End Products

LED Backlight Driver for large LCD panels
LED Lightbar Driver
LED Street Lighting

LED Large Area Lights
Architectural Lighting
Technical Documentation & Design Resources
Evaluation/Development Tool Information
| Product | Status | Compliance | Short Description | Action |
| --- | --- | --- | --- | --- |
| NCL30105G1EVB | Active | | VCSEL Drv + Buck PWM CTLR | |
| NCL30105GEVB | Active | | 350 mA Buck LED Driver Evaluation Board | |
Case Outline
NCL30105DR2G
Active
NCL30105
SOIC-8
751-07
1
260
Tape and Reel
2500
$0.2667
| | | |
| --- | --- | --- |
| Market Leadtime (weeks) | : | Contact Factory |
Product
Description
Pricing ($/Unit)
Compliance
Status
Topology
VI Min (V)
VI Max (V)
VO Max (V)
IO Max (mA)
fSW Typ (kHz)
Package Type
NCL30105DR2G
$0.2667
Active
Case Outlines
751-07
Packages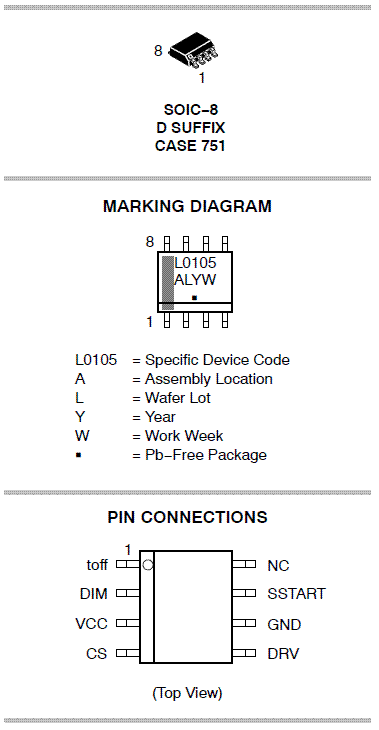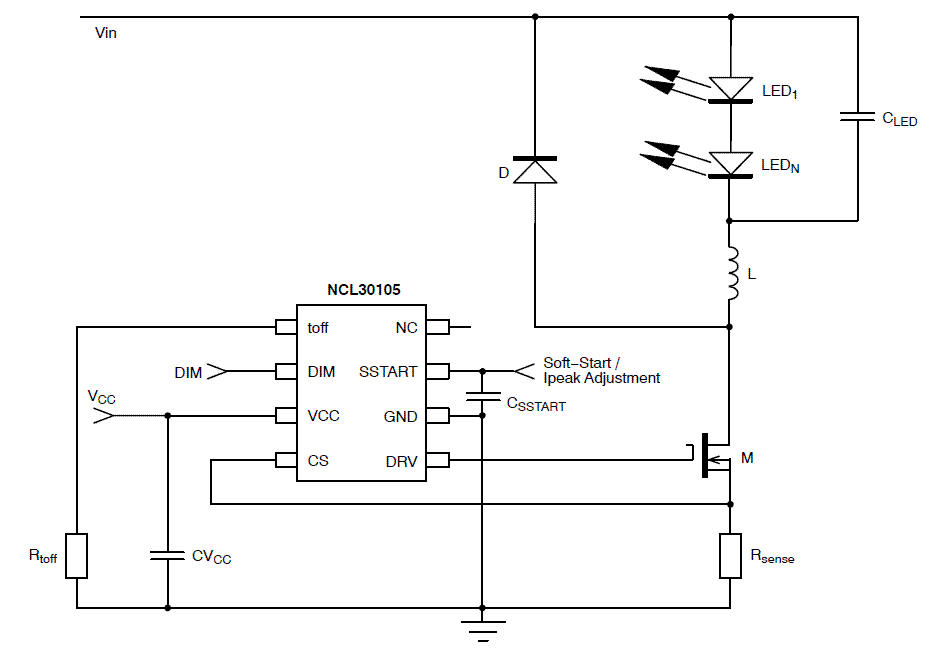 Your request has been submitted for approval.
Please allow 2-5 business days for a response.
You will receive an email when your request is approved.
Request for this document already exists and is waiting for approval.