NCL30083: Step Dimmable Quasi-Resonant Primary Side Current-Mode Controller for LED Lighting with thermal foldback
The NCL30083 is a PWM current mode controller targeting isolated flyback and non-isolated buck-boost constant current topologies. The controller operates in a quasi-resonant mode to provide high efficiency. Thanks to a novel control method, the device is able to precisely regulate a constant LED current from the primary side. This removes the need for secondary side feedback circuitry, biasing and an optocoupler. The device is highly integrated with a minimum number of external components. A robust suite of safety protection is built in to simplify the design. The device supports 5 step log dimming down to 5%. To enhance system lifetime, it has current foldback at a user programmable temperature point. While the NCL30083 has integrated fixed overvoltage protection, the designer has the option to program a lower overvoltage protection level.
Features
Benefits

No optocoupler or secondary control circuitry required

Allows support for wide number of LEDs in string and simplifies transformer design

Precise LED Current Regulation of ±1% typical

No need for binning of LED forward voltage or trimming in production for accuracy

~ 0.9 power factor with passive valley fill

Meets Energystar® LED Bulb and Residential Luminaire Standards

User Programmable Thermal Foldback

Protects system from overheating by gracefully reducing current

Open and Shorted Output Protection

Robust handling of faults

Secondary Diode Short Protection

Avoids overheating in fault conditions

5 Step Dimmable to < 5% output current

Allows dimming with standard wall switch

VCC undervoltage and overvoltage protection

Reliable operation across all conditions

Latched (A version) and Auto-recoverable (B version) fault handling

Wide temperature range of -40 to 125 °C

Supports outdoor and high temperature operating environments

Input Line Voltage Sensing

Enhanced regulation accuracy

Improves startup behavior
Applications
End Products

Line Powered LED Drivers
Integral Driver Electronics

Integral LED Bulbs and downlights
LED Light Engines
Electronic Control Gear for LEDs
Technical Documentation & Design Resources
Evaluation/Development Tool Information
| Product | Status | Compliance | Short Description | Action |
| --- | --- | --- | --- | --- |
| NCL30083BB1GEVB | Active | | 10 W / 200 mA Buck Boost Evaluation Board | |
| NCL30083FLYGEVB | Active | | FLYBACK A19 10W/500MA 100 | |
Case Outline
NCL30083ADMR2G
Last Shipments
NCL30083, and latching on faults
Micro8
846A-02
1
260
Tape and Reel
4000
NCL30083BDMR2G
Last Shipments
NCL30083, and all faults are auto-recoverable
Micro8
846A-02
1
260
Tape and Reel
4000
NCL30083BDR2G
Active
NCL30083, all faults are auto-recoverable on SOIC-8
SOIC-8
751-07
3
260
Tape and Reel
2500
$0.3733
| | | |
| --- | --- | --- |
| Market Leadtime (weeks) | : | Contact Factory |
| | | |
| --- | --- | --- |
| Market Leadtime (weeks) | : | Contact Factory |
| | | |
| --- | --- | --- |
| Market Leadtime (weeks) | : | 4 to 8 |
Product
Description
Pricing ($/Unit)
Compliance
Status
Topology
VI Min (V)
VI Max (V)
VO Max (V)
IO Max (mA)
fSW Typ (kHz)
Package Type
NCL30083BDR2G
$0.3733
Active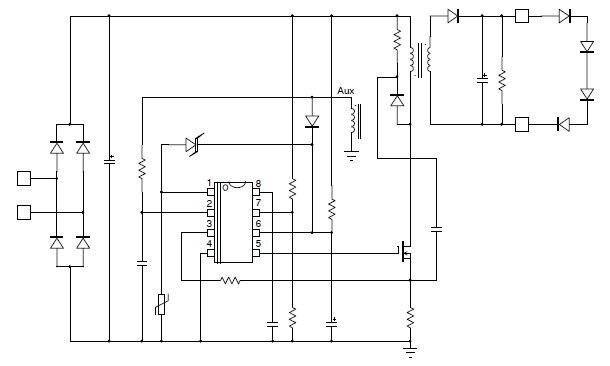 Your request has been submitted for approval.
Please allow 2-5 business days for a response.
You will receive an email when your request is approved.
Request for this document already exists and is waiting for approval.