CS8363: Voltage Regulator, LDO, Dual Micropower, 3.3 V, with Enable and Reset
The CS8363 is a precision micropower dual voltage regulator with ENABLEbar and RESETbar.

The 3.3V standby output is accurate within -2%, +2.4% while supplying loads of 100mA. Quiescent current is low, typically 140µA with a 300µA load. The active RESETbar output monitors the 3.3V standby output and holds the RESETbar line low during power-up and regulator dropout conditions. The RESETbar circuit includes hysteresis and is guaranteed to operate correctly with 1V on the standby output.

The second output tracks the 3.3V standby output through an external adjust lead, and can supply loads of 250mA. The logic level ENABLEbar is used to control this tracking regulator output.

Both outputs are protected against overvoltage, short circuit, reverse battery and overtemperature conditions. The robustness and low quiescent current of the CS8363 makes it not only well suited for automotive microprocessor applications, but for any battery powered microprocessor applications.
Features
Benefits

2 Regulated Outputs
Standby Output 3.3V +/-2%; 100mA
Adjustable TrackingOutput; 250mA

2 outputs enable the device to be used to power a dual supply microprocessor. Output voltage tracking is ideal for voltage regulation which must leave an automotive module for powering sensors.

Protection Features
Independent Thermal Shutdown
Short Circuit
60V Peak Transient
Reverse Battery
Technical Documentation & Design Resources
Case Outline
CS8363YDPS7G
Obsolete
CS8363, 3.3 V / Adjustable
D2PAK-7
936AB
3
260
Tube
50
CS8363YDPSR7G
Obsolete
CS8363, 3.3 V / Adjustable
D2PAK-7
936AB
3
260
Tape and Reel
750
| | | |
| --- | --- | --- |
| Market Leadtime (weeks) | : | Contact Factory |
| | | |
| --- | --- | --- |
| Market Leadtime (weeks) | : | Contact Factory |
Case Outlines
936AB
Packages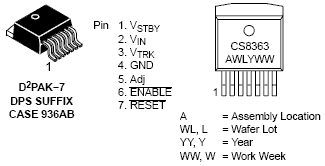 New Products
NCV8730
:
150 mA LDO Regulator
Low quiescent current of 1 µA typical, and shutdown current of 100 nA typical
Wide operating input voltage range of 2.7 to 38 V
Low dropout of 290 mV typical @ 150 mA, 3.3 V
NCV8187
:
1.2 A LDO Regulator
Low Iq of 30 µA typical over full temperature range
High PSRR of 85 dB at 1 kHz for power stability
Low noise of 9 µV(RMS)