The document you are trying to download is gated.
Log into MyON to proceed.
NCV8505: LDO Regulator, 400 mA
The NCV8505 is a family of precision micropower voltage regulators with 400mA output current capability. The family has output voltage options for adjustable, 2.5 V, 3.3 V and 5.0 V that are accurate within ±2.0%. Maximum dropout voltage reaches 0.6 V at full load.
Low quiescent current is a feature drawing less than 1.0 µA with ENABLE = 0 V. This part is ideal for any and all battery operated microprocessor equipment.

Microprocessor control logic includes an active RESET (with DELAY). The active RESET circuit operates correctly at an output voltage as low as 1.0 V. The RESET function is activated during the power up sequence or during normal operation if the output voltage drops below the regulation limits.

The regulator is protected against reverse battery, short circuit, and thermal overload conditions. The device can withstand load dump transients making it suitable for use in automotive environments.
Features
Benefits

Adjustable, 2.5V, 3.3V, 5.0V +/-2% Output Voltage / 400mA Output Current

Low <1µA Sleep Current allowing low standby battery drain

Reset with Adjustable Delay

MPU control - design flexibility

Integrated protections:
+60V Peak Transient Voltage
-15V Reverse Voltage
Short Circuit Protection
Thermal Overload Protection

Limit number of external components:
Robust load dump tolerance
Reverse battery protection
Self protection
Self protection

AEC Qualified and PPAP Capable
Applications
End Products

Powertrain
Body and Chassis
Technical Documentation & Design Resources
Case Outline
NCV8505D2T25G
Last Shipments

AEC Qualified
PPAP Capable
Pb-free
Halide free

LDO Regulator, 400 mA, 2.5 V
D2PAK-7
936AB
3
260
Tube
50
NCV8505D2T25R4G
Last Shipments

AEC Qualified
PPAP Capable
Pb-free
Halide free

LDO Regulator, 400 mA, 2.5 V
D2PAK-7
936AB
3
260
Tape and Reel
750
NCV8505D2T33G
Last Shipments

AEC Qualified
PPAP Capable
Pb-free
Halide free

LDO Regulator, 400 mA, 3.3 V
D2PAK-7
936AB
3
260
Tube
50
NCV8505D2T33R4G
Active

AEC Qualified
PPAP Capable
Pb-free
Halide free

LDO Regulator, 400 mA, 3.3 V
D2PAK-7
936AB
3
260
Tape and Reel
750
$0.9866
NCV8505D2T50G
Last Shipments

AEC Qualified
PPAP Capable
Pb-free
Halide free

LDO Regulator, 400 mA, 5.0 V
D2PAK-7
936AB
3
260
Tube
50
NCV8505D2T50R4G
Active

AEC Qualified
PPAP Capable
Pb-free
Halide free

LDO Regulator, 400 mA, 5.0 V
D2PAK-7
936AB
3
260
Tape and Reel
750
$0.9866
NCV8505D2TADJG
Last Shipments

AEC Qualified
PPAP Capable
Pb-free
Halide free

LDO Regulator, 400 mA, Adjustable
D2PAK-7
936AB
3
260
Tube
50
NCV8505D2TADJR4G
Last Shipments

AEC Qualified
PPAP Capable
Pb-free
Halide free

LDO Regulator, 400 mA, Adjustable
D2PAK-7
936AB
3
260
Tape and Reel
750
NCV8505D2T25
Obsolete

AEC Qualified
PPAP Capable

LDO Regulator, 400 mA, 2.5 V
D2PAK-7
936AB
2
235
Tube
50
NCV8505D2T25R4
Obsolete

AEC Qualified
PPAP Capable

LDO Regulator, 400 mA, 2.5 V
D2PAK-7
936AB
2
235
Tape and Reel
750
NCV8505D2T33
Obsolete

AEC Qualified
PPAP Capable

LDO Regulator, 400 mA, 3.3 V
D2PAK-7
936AB
2
235
Tube
50
NCV8505D2T33R4
Obsolete

AEC Qualified
PPAP Capable

LDO Regulator, 400 mA, 3.3 V
D2PAK-7
936AB
2
235
Tape and Reel
750
NCV8505D2T50
Obsolete

AEC Qualified
PPAP Capable

LDO Regulator, 400 mA, 5.0 V
D2PAK-7
936AB
2
235
Tube
50
NCV8505D2T50R4
Obsolete

AEC Qualified
PPAP Capable

LDO Regulator, 400 mA, 5.0 V
D2PAK-7
936AB
2
235
Tape and Reel
750
NCV8505D2TADJ
Obsolete

AEC Qualified
PPAP Capable

LDO Regulator, 400 mA, Adjustable
D2PAK-7
936AB
2
235
Tube
50
NCV8505D2TADJR4
Obsolete

AEC Qualified
PPAP Capable

LDO Regulator, 400 mA, Adjustable
D2PAK-7
936AB
2
235
Tape and Reel
750
| | | |
| --- | --- | --- |
| Market Leadtime (weeks) | : | Contact Factory |
| | | |
| --- | --- | --- |
| Market Leadtime (weeks) | : | Contact Factory |
| PandS (2020-07-14) | : | <1K |
| | | |
| --- | --- | --- |
| Market Leadtime (weeks) | : | Contact Factory |
| | | |
| --- | --- | --- |
| Market Leadtime (weeks) | : | 17 to 20 |
| | | |
| --- | --- | --- |
| Market Leadtime (weeks) | : | Contact Factory |
| | | |
| --- | --- | --- |
| Market Leadtime (weeks) | : | 13 to 16 |
| Avnet (2020-07-14) | : | >1K |
| PandS (2020-07-14) | : | >1K |
| | | |
| --- | --- | --- |
| Market Leadtime (weeks) | : | Contact Factory |
| | | |
| --- | --- | --- |
| Market Leadtime (weeks) | : | Contact Factory |
| | | |
| --- | --- | --- |
| Market Leadtime (weeks) | : | Contact Factory |
| | | |
| --- | --- | --- |
| Market Leadtime (weeks) | : | Contact Factory |
| | | |
| --- | --- | --- |
| Market Leadtime (weeks) | : | Contact Factory |
| | | |
| --- | --- | --- |
| Market Leadtime (weeks) | : | Contact Factory |
| | | |
| --- | --- | --- |
| Market Leadtime (weeks) | : | Contact Factory |
| | | |
| --- | --- | --- |
| Market Leadtime (weeks) | : | Contact Factory |
| | | |
| --- | --- | --- |
| Market Leadtime (weeks) | : | Contact Factory |
| | | |
| --- | --- | --- |
| Market Leadtime (weeks) | : | Contact Factory |
Product
Description
Pricing ($/Unit)
Compliance
Status
Output
Polarity
VO (V)
IO Typ (A)
VI Min (V)
VI Max (V)
VDO Typ (V)
Iq Typ (mA)
PSRR (dB)
Noise (µVrms)
Enable
PowerGood
Package Type
NCV8505D2T33R4G
$0.9866
Active
NCV8505D2T50R4G
$0.9866
Active
Case Outlines
936AB
Packages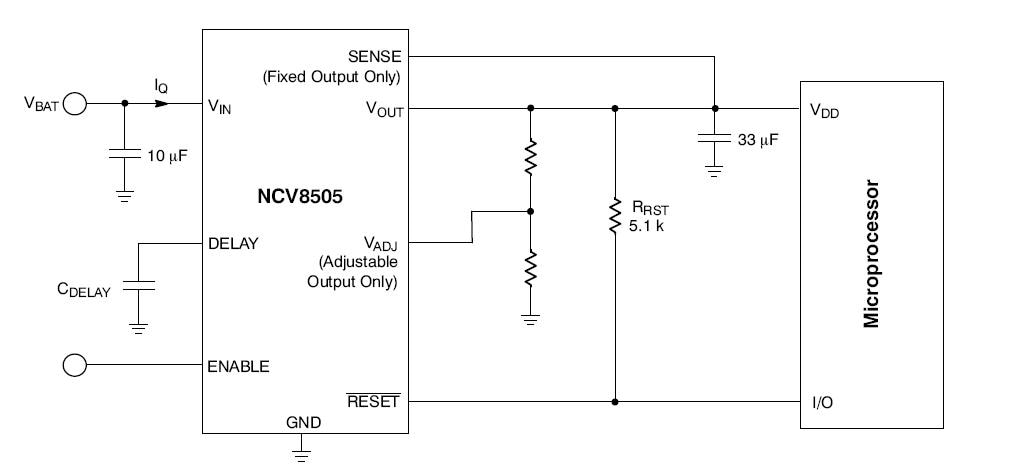 New Products
NCV8730
:
150 mA LDO Regulator
Low quiescent current of 1 µA typical, and shutdown current of 100 nA typical
Wide operating input voltage range of 2.7 to 38 V
Low dropout of 290 mV typical @ 150 mA, 3.3 V
NCV8187
:
1.2 A LDO Regulator
Low Iq of 30 µA typical over full temperature range
High PSRR of 85 dB at 1 kHz for power stability
Low noise of 9 µV(RMS)