The document you are trying to download is gated.
Log into MyON to proceed.
NCP400: 150 mA CMOS Low Iq LDO Voltage Regulator with Voltage Detector Output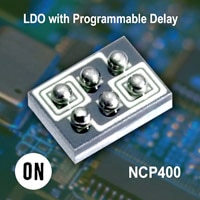 The NCP400 is a low-dropout regulator with integrated programmable delay's voltage detection function, which is designed for portable battery powered applications. This device is capable of supplying 150mA to output with a dropout of 160mV/100mA. Offers ultra-low quiescent current of 50uA(typ.) at full load and 0.25uA(typ.) when device is disabled. NCP400 contains a voltage reference unit, an error amplifier, comparators, PMOS power transistor, current limit and temperature limit protection circuits for the regulator portion.

The NCP400 has been designed to be used with low cost ceramic capacitors and requires a minimum output capacitor of 1.0uF at regulator output. The device is housed in the Microbump-6 package.
Features

LDO Voltage Regulator and Voltage Detector Together in a VerySmall Wafer Level Package, 6 Bump FlipChip, 1.0 x 1.5 mm

Low Quiescent Current of 50uA Typical

Internal Current Limit and Thermal Shutdown Protection

Low Dropout Voltage of 160mV at 100mA

Low Cost and Small Size Ceramic Capacitors

Excellent Line and Load Regulation

High Accuracy on Regulator Output Voltage of 3.0%

High Accuracy on Detection Voltage Threshold of 2.0%
Applications
Memory Cards
Cellular Phones
Digital Still Cameras and Camcorders
Battery Powered Equipment
Technical Documentation & Design Resources
Case Outline
NCP400FCT2G
Consult Sales Office
150 mA CMOS Low Iq LDO Voltage Regulator with Voltage Detector Output, 150 mA CMOS Low Iq LDO Voltage Regulator with Voltage Detector Output
Flip-Chip-6
499AH
1
260
Die Surf Tape and Reel
3000
| | | |
| --- | --- | --- |
| Market Leadtime (weeks) | : | Contact Factory |
Case Outlines
499AH
Packages