The document you are trying to download is gated.
Log into MyON to proceed.
NCP3066: Buck / Boost / Inverting Regulator, Switching, Constant Current, 1.5 A, for HB-LEDs with Enable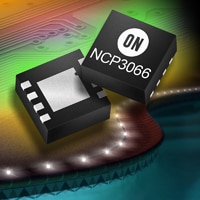 The NCP3066 is a monolithic Buck Boost Inverting Switching Regulator designed to deliver constant current for powering high brightness LEDs. The device has a very low feedback voltage of 235 mV (nominal) which is used to regulate the average current of the LED string. In addition, the NCP3066 has a wide input voltage up to 40 V to allow it to operate from 12 Vac or 12 Vdc supply, commonly used for lighting applications as well as unregulated supplies such as rechargeable batteries. The NCP3066 switching regulator can be configured in Step-Down (Buck) and Step-Up (Boost) and Voltage-Inverting topologies with a minimum number of external components. An NCV3066 automotive version is available and without the ON/OFF feature as the NCP3065.
Features
Benefits

Integrated switch provides for small footprint

Input Voltage Range from 3 V to 40 V

Flexibility to operate from 12Vac or 12Vdc supplies commonly used for lighting applications

Low Feedback Voltage of 235 mV

Allows the use of small / low cost sense resistor

Cycle-by-Cycle Current Limit

Enhanced protection features

No Control Loop Compensation Required

Frequency of Operation Adjustable up to 250 kHz

Optimization of efficiency and size

Operation With All Ceramic Output Capacitors or No Output Capacitance

Reduce size and cost by eliminating output capacitor

Internal Thermal Shutdown with Hysteresis

Enhanced protection features

ON/OFF pin for direct PWM dimming

Provides dimming up to 1kHz frequency

ON/OFF pin disabling the regulator

Low power standby (<100µA)
Applications
End Products

Constant Current Source
High Power LED Driver
High Brightness LED (HBLED)

MR-16 Replacement
Automotive LED Headlight
Technical Documentation & Design Resources
Case Outline
NCP3066DR2G
Active
Buck / Boost / Inverting Regulator, Switching, Constant Current, 1.5 A, for HB-LEDs with Enable
SOIC-8
751-07
1
260
Tape and Reel
2500
$0.6267
NCP3066MNTXG
Active
Buck / Boost / Inverting Regulator, Switching, Constant Current, 1.5 A, for HB-LEDs with Enable
DFN-8
488AF
1
260
Tape and Reel
4000
$0.6533
NCP3066PG
Obsolete
Buck / Boost / Inverting Regulator, Switching, Constant Current, 1.5 A, for HB-LEDs with Enable
PDIP-8
626-05
NA
Tube
50
NCV3066DR2G
Active

AEC Qualified
PPAP Capable
Pb-free
Halide free

Buck / Boost / Inverting Regulator, Switching, Constant Current, 1.5 A, for HB-LEDs with Enable
SOIC-8
751-07
1
260
Tape and Reel
2500
$0.6667
NCV3066MNTXG
Active

AEC Qualified
PPAP Capable
Pb-free
Halide free

Buck / Boost / Inverting Regulator, Switching, Constant Current, 1.5 A, for HB-LEDs with Enable
DFN-8
488AF
1
260
Tape and Reel
4000
$0.6933
NCV3066PG
Obsolete

AEC Qualified
PPAP Capable
Pb-free
Halide free

Buck / Boost / Inverting Regulator, Switching, Constant Current, 1.5 A, for HB-LEDs with Enable
PDIP-8
626-05
NA
Tube
50
| | | |
| --- | --- | --- |
| Market Leadtime (weeks) | : | 8 to 12 |
| PandS (2020-08-06 00:00) | : | >1K |
| | | |
| --- | --- | --- |
| Market Leadtime (weeks) | : | 4 to 8 |
| | | |
| --- | --- | --- |
| Market Leadtime (weeks) | : | Contact Factory |
| PandS (2020-08-06 00:00) | : | <100 |
| | | |
| --- | --- | --- |
| Market Leadtime (weeks) | : | 8 to 12 |
| PandS (2020-08-06 00:00) | : | >1K |
| | | |
| --- | --- | --- |
| Market Leadtime (weeks) | : | 4 to 8 |
| | | |
| --- | --- | --- |
| Market Leadtime (weeks) | : | Contact Factory |
Product
Description
Pricing ($/Unit)
Compliance
Status
Topology
Control Mode
VCC Min (V)
VCC Max (V)
VO Typ (V)
IO Typ (A)
Efficiency (%)
fSW Typ (kHz)
Package Type