NCP6338: Synchronous Buck Converter, Processor Supply, I2C Programming, Remote Sense, 6.0 A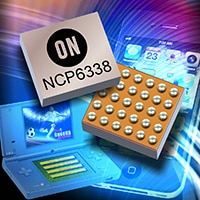 The NCP6338 is a synchronous buck converter optimized to supply recent micro processors (ARM core processor, GPU) that demand high power at low voltages of portable applications powered by one cell Li-ion or three cell Alkaline/NiCd/NiMH batteries.
The device is able to deliver up to 6 A of programmable voltage ranging from 0.6 V to 1.4 V. Synchronous rectification and automatic PFM/PWM transition offer improved system efficiency. Operation at a 3 MHz switching frequency allows the use of small form factor external components.
The NCP6338 is in a space saving, low profile 2.06 x 2.46 mm CSP-30 package.
Features
Benefits

2.3 V to 5.5 V Input Voltage Range

3 MHz Switching Frequency

Reduced output inductor and capacitor size

3 MHz Switching Frequency

Reduced output inductor and capacitor size

Modular output strength drive


Compensates for PCB losses and processor acces resistor


Optimizes processor power


Enabling with pins or I2C

Flexible enabling and disabling


Preprogramming at low power
Applications
End Products

Battery powered applications power management
Power supply for processor with low core voltage

Cellular phones, smart phones, tablets and PDAs
Technical Documentation & Design Resources
Case Outline
NCP6338FCT1G
Obsolete
NCP6338
WLCSP-30
567CU
1
260
Tape and Reel
3000
| | | |
| --- | --- | --- |
| Market Leadtime (weeks) | : | Contact Factory |
Case Outlines
567CU
Packages