NCP1532: Buck Converter, DC-DC, Dual, Low Iq, High Efficiency, 2.25 MHz, 1.6 A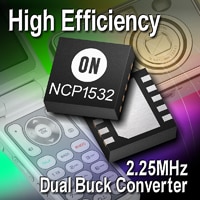 The NCP1532 dual step down DCDC converter is a monolithic integrated circuit dedicated to supply core and I/O voltages of new multimedia design in portable applications powered from 1-cell Li-ion or 3 cell Alkaline/NiCd/NiMH batteries. Both channels are externally adjustable from 0.9V to 3.3V and can source totally up to 1.6A, 1.0A maximum per channel. Converters are running at 2.25MHz switching frequency which reduces component size by allowing the use of small inductor (down to 1uH) and capacitors and operates 180 degrees out of phase to reduce large amount of current demand on the battery. Automatic switching PWM/PFM mode and synchronous rectification offer improved system efficiency. The device can also operate into fixed frequency PWM mode for low noise applications where low ripple and good load transients are required. Additional features include integrated soft-start, cycle-by-cycle current limit and thermal shutdown protection. The device can also be synchronized to an external clock signal in the range of 2.25 MHz. The NCP1532 is available in a space saving, ultra low profile 3x3 x 0.55 mm 10 pin uDFN package.
Features
Benefits

97% efficiency, 50uA quiescent current, 0.3 uA shutdown current

Extends battery life and 'play-time'

2.25MHz switching frequency

Allows use of smaller inductor and capacitor

Mode pin operation : Auto-switching PWM/PFM mode at light loading or PWM mode only

Allow user select between low power consumption at light loading or noise and ripple performance

Adjustable outputs voltage from 0.9V to 3.3V

Can source up to 1.6A, 1.0A max per channel (800mA/800mA or 1.0A/600mA)
Applications
End Products

Power supply for application processor
Power supply for processor with low core voltage

Cellular phones, smart phones, and PDAs
MP3 players and portable audio systems
Technical Documentation & Design Resources
Evaluation/Development Tool Information
| Product | Status | Compliance | Short Description | Action |
| --- | --- | --- | --- | --- |
| NCP1532GEVB | Active | | Dual Step-Down DC-DC Converter Evaluation Board | |
| | | | |
| --- | --- | --- | --- |
| | | | Interactive Block Diagram |
Product
Description
Pricing ($/Unit)
Compliance
Status
Topology
Control Mode
VCC Min (V)
VCC Max (V)
VO Typ (V)
IO Typ (A)
Efficiency (%)
fSW Typ (kHz)
Package Type
NCP1532MUAATXG
$0.6667
Active
Application
Diagram - Block
Your request has been submitted for approval.
Please allow 2-5 business days for a response.
You will receive an email when your request is approved.
Request for this document already exists and is waiting for approval.