NCP1080: Integrated PoE-PD and DC-DC converter controller, 13 W
The NCP1080 is a member of ON Semiconductor's Power over Ethernet Powered Device (PoE-PD) product family and represents a robust, flexible and highly integrated solution targeting demanding Ethernet applications. It combines in a single unit an enhanced PoE-PD interface fully compliant with the IEEE 802.3af specification and a flexible and configurable DC-DC converter controller.
The NCP1080's exceptional capabilities offer new opportunities for the design of products powered directly over Ethernet lines, eliminating the need for local power adapters or power supplies and drastically reducing the overall installation and maintenance cost.
ON Semiconductor's unique manufacturing process and design enhancements allow the NCP1080 to deliver up to 13 W of regulated power to support PoE applications according to the IEEE 802.3af standard. This device leverages the significant cost advantages of PoE-enabled systems to a broad spectrum of products in markets such as VoIP phones, wireless LANs, security cameras, point of sales terminals, RFID readers, industrial Ethernet, etc.
The integrated current mode DC-DC controller facilitates isolated and non-isolated flyback, forward and buck converter topologies. It has all the features necessary for a flexible, robust and highly efficient design including programmable switching frequency, duty cycle up to 80 percent, slope compensation, and soft start up.
The NCP1080 is fabricated in a robust high voltage process and integrates a rugged vertical N-channel DMOS with a low loss current sense technique suitable for the most demanding environments and capable of withstanding harsh environments such as hot swap and cable ESD events.
Features
Benefits

Support for traditional PoE apps

Full operation to TJ=150C

Wide operating temperature range

Robust 3.0 kV cable ESD protection

Extended operation in harsh environments

Exposed TSSOP-20 EP package

Thermally enhanced package for higher output current
Applications
End Products

Power over Ethernet Powered Device (PoE-PD) interface and integrated DC-DC converter controller

VoIP phones
WLAN access points
Box security cameras
Industrial Ethernet HMIs and UPS backed PLCs and IOMs
Point of Sales terminals
RFID readers
Technical Documentation & Design Resources
Case Outline
NCP1080DEG
Lifetime
NCP1080
TSSOP-20
948AB
2
260
Tube
74
NCP1080DER2G
Lifetime
NCP1080
TSSOP-20
948AB
2
260
Tape and Reel
2500
| | | |
| --- | --- | --- |
| Market Leadtime (weeks) | : | Contact Factory |
| | | |
| --- | --- | --- |
| Market Leadtime (weeks) | : | Contact Factory |
Case Outlines
948AB
Packages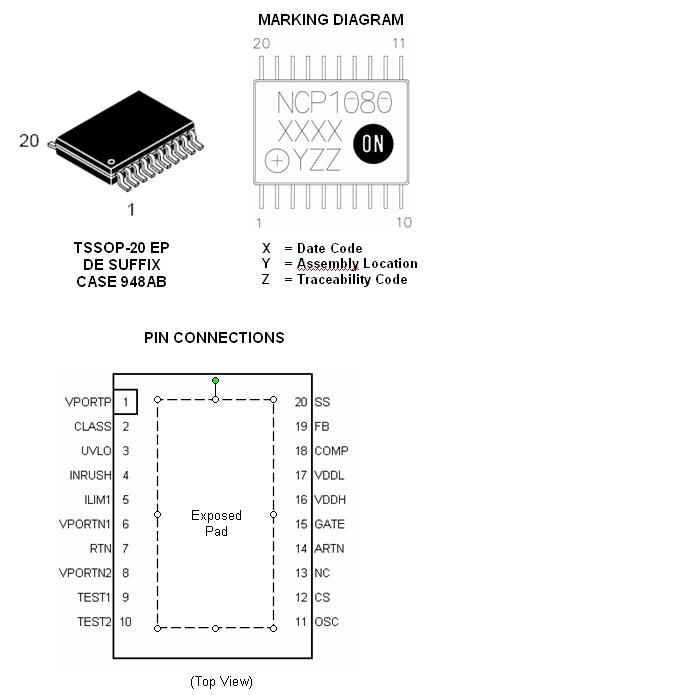 Application
Diagram - Block
Your request has been submitted for approval.
Please allow 2-5 business days for a response.
You will receive an email when your request is approved.
Request for this document already exists and is waiting for approval.