FAN6390: PD3.0 Adaptive Charging Controller with Synchronous Rectifier Control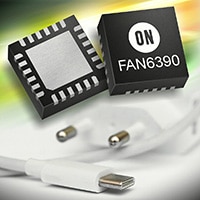 FAN6390 is a highly integrated, secondary-side power adaptor controllers. It implements state machines for Power Delivery 3.0 and Type-C™. This PD3.0 state machine is designed for Source only and it supports PPS as well. In order to meet PPS specification, FAN6390 supports minimum 3.3 V output voltage control and maximum 21V output voltage control. FAN6390 internally adopts synchronous rectifier control for less BOM counts as well as easy design. It includes Constant Voltage (CV) and Constant Current (CC) control blocks, and they consist of two operational amplifiers for voltage-loop and current-loop regulation with adjustable references. The references are supported from the DAC. The outputs of the CV and CC amplifiers are tied together in open-drain configuration. FAN6390 supports various protections, Under Voltage Protection, Over Voltage Protection, Over Current Protection, BUS line impedance Protection, IC internal Over Temperature Protection and External Over Temperature Protection. Through 10-bit ADC, output voltage, output current, and external temperature via NTC can be monitored. FAN6390 is capable of controlling back to back N-Channel MOSFETs as a Load switch, which results in a low cost and easier design.
Features
Benefits

Compliant with the latest USB-IF specs

Internal Synchronous Rectifier Control Circuit

Saves BOM content by minimizing device count

Small Current Sensing Resistor (5mΩ)

Secondary-Side Constant Voltage (CV) and Constant Current (CC) Regulation with Two Operational Amplifiers of Open-Drain Type for Dual-Loop CV/CC Control

N-Channel back to back MOSFET Control as a Load Switch

Type-C Control for Standard 3A VBUS Current

Built-in Cable-Drop Compensation supporting non-PD device

Built-in Output Capacitor Bleeding Function for Fast Discharging during Change of Output Mode

Various Protections; Adaptive Output Over-Voltage Protection, Adaptive Output Under-Voltage Protection, Over Temperature Protection via external NTC, USB Connector Fault Protections such as VBUS line impedance detection
Applications
End Products

USB-PD/PPS Protocol Controller with Synchronous Rectifier

Battery Chargers for Smart Phones, Feature Phones, and Tablet PCs
AC-DC Adapters for Portable Devices that Require CV/CC Control
Technical Documentation & Design Resources
| | | |
| --- | --- | --- |
| | | Intaractive Block Diagram |
Case Outline
FAN6390MPX
Active
FAN6390, MLP Packaging
WQFN-24
510BE
1
260
Tape and Reel
3000
$1.2064
| | | |
| --- | --- | --- |
| Market Leadtime (weeks) | : | 13 to 16 |
Product
Description
Pricing ($/Unit)
Compliance
Status
VCC Max (V)
Vref Typ (V)
ICC Max (A)
TA Min (°C)
TA Max (°C)
Package Type
FAN6390MPX
$1.2064
Active
Application
Diagram - Block
Your request has been submitted for approval.
Please allow 2-5 business days for a response.
You will receive an email when your request is approved.
Request for this document already exists and is waiting for approval.