NCN8026: Smart Card Interface, Low Power
The NCN8026A is a compact and cost-effective single SIM and smart card interface IC. It can be used with 1.8 V, 3 V and 5 V IC cards. The card VCC supply is provided by a built-in very low drop-out and low noise Regulator. The NCN8026A offers enhanced performances with low VCC output ripple under load-transient conditions, very low shutdown current and 1.8 V-to-5 V logic compatibility. This device is fully compatible with the ISO 7816-3, EMV 4.2, UICC and related standards including STB standards (Nagravision, Irdeto, Conax...). It satisfies the requirements specifying conditional access into Set-Top-Boxes (STB) or Conditional Access Modules (CAM). This smart card interface IC is available in a QFN-24 package providing all the industry-standard features usually required for STB smart card interface.
Features

Fully Compatible with ISO7816-3, EMV4.3, UICC and Related Standards Including STB Standards (Nagravision, Conax, Irdeto...)

Three Bidirectional Buffered I/O Level Shifters (C4, C7 and C8)

1.8 V, 3 V or 5 V ±5 % Regulated Card Power Supply with ICC ≤ 80 mA and Low VCC Ripple

Regulator Power Supply: VDDP = 2.7 V to 5.5 V (@ 1.8 V), 3 V to 5.5 V (@ 3 V) and 4.85 V to 5.5 V (@ 5 V)

Independent Power Supply range on Controller Interface such as VDD = 1.6 V to 5.5 V

Handles Class A, B and C Smart Cards

Support up to 27 MHz input Clock with Internal Division Ratio 1/1, 1/2, 1/4 and 1/8 through CLKDIV1 and CLKDIV2

HBM (Human Body Model) ESD Protection on Card Pins up to +8 kV

Activation / Deactivation Sequences (ISO7816 Sequencer)

Fault Protection Mechanisms Enabling Automatic Device Deactivation in Case of Overload, Overheating, Card Takeoff or Power Supply Dropout(OCP, OTP, UVP)

Interrupt Signal INT for Card Presence and Faults

Chip Select Pin (CS) for Dual Card Operating

External UnderVoltage Lockout Threshold Adjustment on VDD (PORADJ Pin)
Applications
End Products

Pay TV, Set Top Box Decoder with Conditional Access and Pay-per-View
Conditional Access Module (CAM / CAS)
SIM card interface applications (UICC / USIM)
Electronic Payment and Identification

Set Top Boxes
Point Of Sales and Transaction Terminals
Technical Documentation & Design Resources
Evaluation/Development Tool Information
| Product | Status | Compliance | Short Description | Action |
| --- | --- | --- | --- | --- |
| NCN8026AMNGEVB | Active | | NCN8026A QFN24L Smart Card Interface | |
Case Outline
NCN8026AMNTXG
Active
NCN8026
QFN-24
485L-01
1
260
Tape and Reel
3000
$0.29
| | | |
| --- | --- | --- |
| Market Leadtime (weeks) | : | 4 to 8 |
| ON Semiconductor (2020-09-02 00:00) | : | 18,000 |
| Avnet (2020-08-19 00:00) | : | >10K |
Product
Description
Pricing ($/Unit)
Compliance
Status
VCC Min (V)
VCC Max (V)
IT Typ (mA)
II(standby) Max (µA)
fClock Max (MHz)
Package Type
NCN8026AMNTXG
$0.29
Active
Case Outlines
485L-01
Packages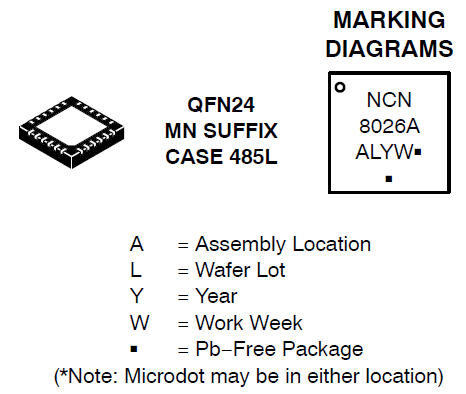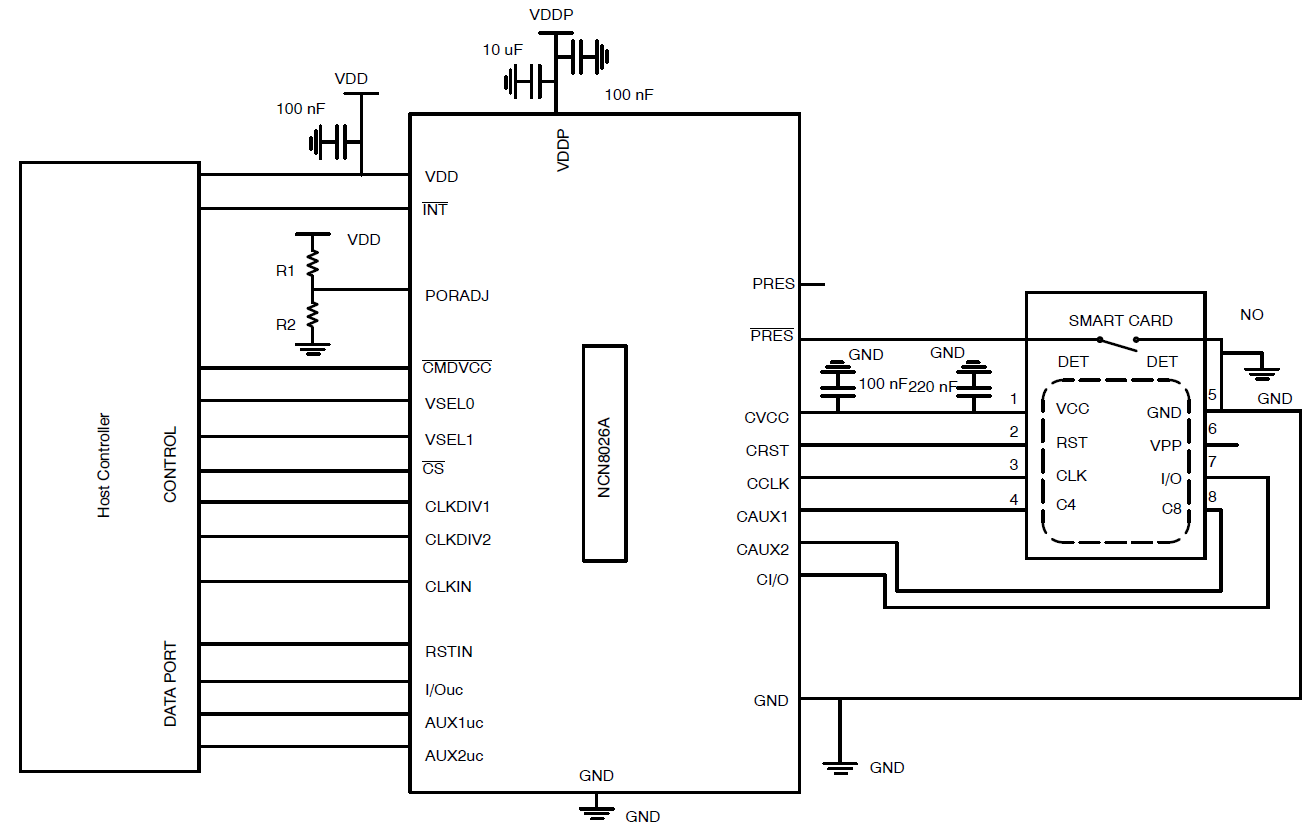 Your request has been submitted for approval.
Please allow 2-5 business days for a response.
You will receive an email when your request is approved.
Request for this document already exists and is waiting for approval.