The document you are trying to download is gated.
Log into MyON to proceed.
CAT5271: Digital Potentiometer (POT), Dual 256-Tap, with I2C Compatible Interface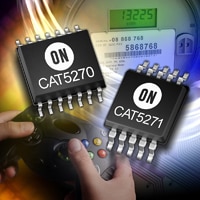 The CAT5271 is a dual 256-positionlinear taper digital POT ideally suited for replacing mechanical potentiometers and variable resistors.

The wiper settings are controlled through an I2C-compatible digital interface. Upon power-up, the wiper assumes a midscale position and may be repositioned anytime after the power is stable. The device can be programmed to go to a shutdown state during operation.

The CAT5271 operates from 2.7 V to 5.5 V, while consuming less than 2 µA. This low operating current, combined with a small package footprint, makes the CAT5273 ideal for battery-powered portable applications.

The CAT5271, designed as a pin for pin replacement for the AD5248, operates over the -40°C to +85°C industrial temperature range.
Features
Benefits

Offers high-resolution adjustment

End-to-End Resistance: 50 kΩ, 100 kΩ

Power-on Preset to Midscale

Single Supply 2.7 V to 5.5 V

Low Temperature Coefficient 100 ppm/°C

Wide Operating Temperature -40°C to +85°C
Applications
End Products

Potentiometer Replacement
Transducer Adjustment of Pressure, Temperature, Position, Chemical, and Optical Sensors
RF Amplifier Biasing
Gain Control and Offset Adjustment
Technical Documentation & Design Resources
Case Outline
CAT5271ZI-00-GT3
Active
Digital Potentiometer (POT), Dual 256-Tap, with I2C Compatible Interface, 100 kΩ
MSOP-10
846AE
1
260
Tape and Reel
3000
$1.6
CAT5271ZI-50-GT3
Active
Digital Potentiometer (POT), Dual 256-Tap, with I2C Compatible Interface, 50 kΩ
MSOP-10
846AE
1
260
Tape and Reel
3000
$1.6
| | | |
| --- | --- | --- |
| Market Leadtime (weeks) | : | Contact Factory |
| | | |
| --- | --- | --- |
| Market Leadtime (weeks) | : | 4 to 8 |
| ON Semiconductor (2020-05-23) | : | 12,000 |
Product
Description
Pricing ($/Unit)
Compliance
Status
# of Pots
# of Taps
Type
Control Interface
Resistance Typ (kΩ)
VH Max (V)
Wiper Position Memory
VDD Max (V)
Package Type
CAT5271ZI-00-GT3
$1.6
Active
CAT5271ZI-50-GT3
$1.6
Active