CAT5140: Digital Potentiometer (POT), 256-Tap, with I2C Interface and Integrated EEPROM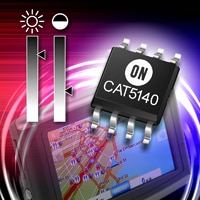 The CAT5140 is a single channel non-volatile 256-tap digital POT. This digital POT is comprised of a series of equal value resistor elements connected between two externally accessible end points. The tap points between each resistive element can be selectively connected to the wiper output via internal CMOS switches forming a linear taper electronic potentiometer.

The CAT5140 contains a volatile wiper register (WR) and an 8-bit non-volatile EEPROM for wiper position and 5 additional non-volatile registers for general purpose data storage. Programming of the registers is controlled via I2C interface. On power up, the wiper position is reset to the most recent value stored in the non-volatile memory register (IVR).

The CAT5140 operates over the industrial temperature range of -40°C to +85°C.
Features

400 kHz I2C Compatible Interface

256 Position Linear Taper Potentiometer

End-to-End Resistance = 50 kΩ / 100 kΩ

TCR = 100 ppm/°C (typical)

Standby Current = 2 µA (max)

Typical Wiper Resistance = 70 Ω @ 3.3 V

Operating Voltage = 2.5 V to 5.5 V

6 Registers 8-bit Non-volatile EEPROM

2,000,000 Data Write Stores

Pb-free RoHS Compliant: NiPdAu Plating
Applications
End Products

Gain Adjustment and Line Impedance Matching
Automated Calibration
Contrast, Brightness and Volume Control
LCD Screen Adjustment

Instrumentation for Handheld, Portable Devices
Industrial Automation for Handheld, Portable Devices
Portable Games
Technical Documentation & Design Resources
Case Outline
CAT5140ZI-00-GT3
Active
CAT5140
MSOP-8
846AD
1
260
Tape and Reel
3000
$1.08
CAT5140ZI-50-GT3
Active
CAT5140
MSOP-8
846AD
1
260
Tape and Reel
3000
$0.3672
| | | |
| --- | --- | --- |
| Market Leadtime (weeks) | : | 2 to 4 |
| ON Semiconductor (2020-09-02) | : | 15,000 |
| | | |
| --- | --- | --- |
| Market Leadtime (weeks) | : | Contact Factory |
| PandS (2020-09-14) | : | >1K |
Product
Description
Pricing ($/Unit)
Compliance
Status
# of Pots
# of Taps
Type
Control Interface
Resistance Typ (kΩ)
VH Max (V)
Wiper Position Memory
VDD Max (V)
Package Type
Case Outlines
846AD
Packages