The document you are trying to download is gated.
Log into MyON to proceed.
NCN1188: Data Switch, 3:1 High Speed USB Switch with Audio and MHL Capability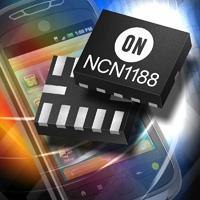 The NCN1188 allows portable systems to share a single USB 2.0 or 3.0 receptacle to transmit and receive paired signals from three separate locations. All of the three differential channels are compliant to High Speed USB 2.0, Full Speed USB 1.1, Low Speed USB 1.0 and any generic UART protocol. The two dedicated high speed data paths also support Mobile High Definition Link (MHL) video up to resolutions of 1080i (2.25 Gbps) and 1080p (3 Gbps in PackedPixel mode). The multi-purpose audio path is capable of passing signals with negative voltages as low as 2 V below ground and features shunt resistors to reduce Pop and Click noise in the audio system. The NCN1188 is housed in a space saving, ultra low profile 2.0 x 1.7 x 0.5 mm, 12 pins UQFN package.
Features
Benefits

Multiplex Audio or High Speed Data from a Single USB

5.25 V Tolerant Common Pins

Support Any Short to VBUS

High Bandwidth of 1.8 GHz on HDN/HDP

MHL Compatible up to 1080i and 1080p Resolutions

Pass Negative Swing Signals Down to -2 V on Audio Channels

Connect a True Ground Amplifier to a MicroUSB Headset

Audio Channel Shunt Resistors

Pop and Click Noise Reduction

Ultra-low THD in Audio Mode: 0.01%
Applications
End Products

USB 2.0 / 3.0 MicroB Applications
USB to HDMI Video Interfaces via MHL

Features Phones and Smart Phones
Digital Cameras
Handset Media Players
Technical Documentation & Design Resources
Case Outline
NCN1188MUTAG
Active
NCN1188
UQFN-12
523AE
1
260
Tape and Reel
3000
$0.3333
| | | |
| --- | --- | --- |
| Market Leadtime (weeks) | : | Contact Factory |
Product
Description
Pricing ($/Unit)
Compliance
Status
Channels
Number of Switches
Configuration
Icc Max (µA)
ron Max (Ω)
VCC Min (V)
VCC Max (V)
Package Type
NCN1188MUTAG
$0.3333
Active