The document you are trying to download is gated.
Log into MyON to proceed.
NCP81071: High Speed 5A Dual Low Side MOSFET driver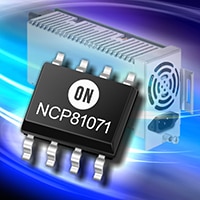 The NCP81071 is a high speed dual low−side MOSFETs driver. It is capable of providing large peak currents into capacitive loads up to 5 A peak current at the Miller plateau region to help reduce the Miller effect during MOSFETs switching transition. The device provides enable functions to give users better control than existing solutions in various applications. This part is available in MSOP8−EP package, SOIC8 package, DFN8 2 mm x 2 mm package and WDFN8 3 mm x 3 mm package.
Features
Benefits

High current drive capability (+/- 5 A)

Capable of driving a wide range of MOSFETS

TTL/CMOS compatible inputs, independent of supply voltage

Ease of implementation in diverse applications

Enable function incorporated for each driver

Allows the user greater control in applications

Pin compatible to the most popular existing industry standard dual MOSFET drivers

Drop in replacement in existing sockets with the added benefit of additional functionality

Input voltage from 4.5V to 20V

Both outputs can be paralleled for higher drive current
Applications
End Products

Switch Mode Power Supplies
Telecommunication and Server Power
Synchronous Rectifier
DC/DC converters
Power Factor Correction
Motor Drivers

Basestations
Networking and Communications Equipment
eMeters
Automotive Infotainment systems
Video cameras, security and surveillance equipment
Computing and consumer electronics
Technical Documentation & Design Resources
Case Outline
NCP81071ADR2G
Active
NCP81071
SOIC-8
751-07
1
260
Tape and Reel
2500
$0.5333
NCP81071AMNTXG
Active
NCP81071
WDFN-8
511CD
1
260
Tape and Reel
3000
$0.56
NCP81071AZR2G
Active
NCP81071
MSOP-8 EP
846AM
1
260
Tape and Reel
3000
$0.5733
NCP81071BDR2G
Active
NCP81071
SOIC-8
751-07
1
260
Tape and Reel
2500
$0.5333
NCP81071BMNTXG
Active
NCP81071
WDFN-8
511CD
1
260
Tape and Reel
3000
$0.56
NCP81071BZR2G
Active
NCP81071
MSOP-8 EP
846AM
1
260
Tape and Reel
3000
$0.5733
NCP81071CDR2G
Active
NCP81071
SOIC-8
751-07
1
260
Tape and Reel
2500
$0.5333
NCP81071CMNTXG
Active
NCP81071
WDFN-8
511CD
1
260
Tape and Reel
3000
$0.56
NCP81071CZR2G
Active
NCP81071
MSOP-8 EP
846AM
1
260
Tape and Reel
3000
$0.5733
| | | |
| --- | --- | --- |
| Market Leadtime (weeks) | : | 13 to 16 |
| | | |
| --- | --- | --- |
| Market Leadtime (weeks) | : | 13 to 16 |
| ON Semiconductor (2020-09-02 00:00) | : | 3,000 |
| | | |
| --- | --- | --- |
| Market Leadtime (weeks) | : | 13 to 16 |
| | | |
| --- | --- | --- |
| Market Leadtime (weeks) | : | 13 to 16 |
| FutureElectronics (2020-08-19 00:00) | : | <1K |
| | | |
| --- | --- | --- |
| Market Leadtime (weeks) | : | 13 to 16 |
| | | |
| --- | --- | --- |
| Market Leadtime (weeks) | : | 17 to 20 |
| | | |
| --- | --- | --- |
| Market Leadtime (weeks) | : | 2 to 4 |
| ON Semiconductor (2020-09-02 00:00) | : | 42,500 |
| | | |
| --- | --- | --- |
| Market Leadtime (weeks) | : | 2 to 4 |
| | | |
| --- | --- | --- |
| Market Leadtime (weeks) | : | 13 to 16 |
Product
Description
Pricing ($/Unit)
Compliance
Status
Power Switch
Number of Outputs
Topology
Isolation Type
Vin Max (V)
VCC Max (V)
Drive Source/Sink Typ (mA)
Rise Time (ns)
Fall Time (ns)
tp Max (ns)
Package Type