NCP5304: MOSFET / IGBT Drivers, High Voltage, High and Low Side, Dual Input
The NCP5304 is a High Voltage Power gate Driver providing two outputs for direct drive of 2 N-channel power MOSFETs or IGBTs arranged in a half-bridge configuration.
It uses the bootstrap technique to insure a proper drive of the High-side power switch. The driver works with 2 independent inputs with cross conduction protection.
Features

High Voltage Range: Up to 600V

Gate Drive Supply Range from 10 V to 20 V

High and Low Drive Outputs

Output Source / Sink Current Capability 250 mA / 500 mA

3.3 V and 5 V Input Logic Compatible

Up to Vcc Swing on Input Pins

Matched Propagation Delays Between Both Channels

Outputs in Phase with the Inputs

Cross Conduction Protection with 100ns Internal Fixed Dead Time

Under Vcc LockOut (UVLO) for Both Channels

Pin to Pin Compatible with Industry Standards
Applications
Half Bridge Power Converters
Full Bridge Converters
Technical Documentation & Design Resources
| | | | | |
| --- | --- | --- | --- | --- |
| | | | | Interactive Block Diagram |
Case Outline
NCP5304DR2G
Active
NCP5304
SOIC-8
751-07
1
260
Tape and Reel
2500
$0.7392
NCP5304PG
Obsolete
NCP5304
PDIP-8
626-05
1
260
Tube
50
| | | |
| --- | --- | --- |
| Market Leadtime (weeks) | : | Contact Factory |
| FutureElectronics (2020-08-19 00:00) | : | >1K |
| PandS (2020-09-14 00:00) | : | >1K |
| | | |
| --- | --- | --- |
| Market Leadtime (weeks) | : | Contact Factory |
| PandS (2020-09-14 00:00) | : | <100 |
Product
Description
Pricing ($/Unit)
Compliance
Status
Power Switch
Number of Outputs
Topology
Isolation Type
Vin Max (V)
VCC Max (V)
Drive Source/Sink Typ (mA)
Rise Time (ns)
Fall Time (ns)
tp Max (ns)
Package Type
NCP5304DR2G
$0.7392
Active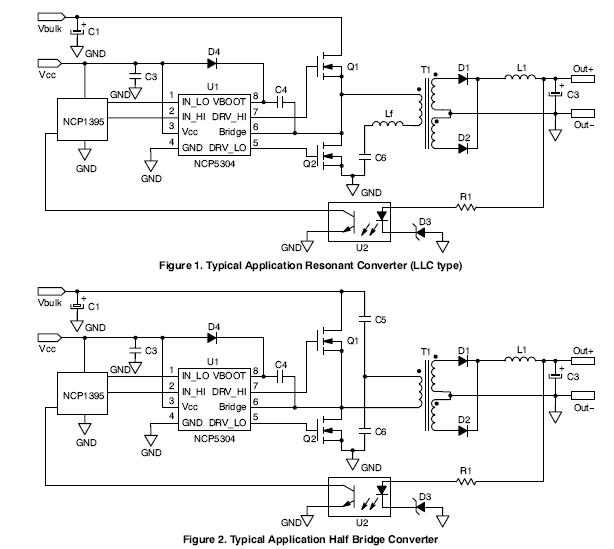 Application
Diagram - Block