AMIS-41683: CAN Transceiver, Fault Tolerant, 3.3 V
The new AMIS-41682 and AMIS-41683 are interfaces between the protocol controller and the physical wires of the bus lines in a control area network (CAN). AMIS-41683 is identical to the AMIS-41682 but has a true 3.3V digital interface to the CAN controller. The device provides differential transmit capability but will switch in error conditions to a single-wire transmitter and or receiver. Initially it will be used for low speed applications, up to 125kBaud, in passenger cars.
Both AMIS-41682 and AMIS-41683 are implemented in I2T100 technology enabling both high-voltage analog circuitry and digital functionality to co-exist on the same chip.
These products consolidate the expertise of ON Semiconductor for in-car multiples transceivers and support together with 0REMX-002-XTP (VAN), AMIS-30660 and AMIS-30663 (CAN high speed) and AMIS-30600 (LIN) another widely used physical layer.
Features

Fully compatible with ISO11898-3 standard

Very low electromagnetic emission (EME)

Fully integrated receiver filters

Permanent monitoring of transmit data input

High electromagnetic susceptibility (EMS) in normal- and low-power modes

True 3.3V digital I/O interface to CAN controller

In the event of bus failure, automatic switching to single-wire mode

The device will automatically reset to differential mode if the bus failure

During failure modes there is full wake-up capability

Un-powered nodes do not disturb bus lines

Bus errors and thermal shutdown activation is flagged on ERRB pin

Short circuit proof to battery and ground

The bus lines are protected against transients in an automotive environment

Support for low power modes

Low current sleep and standby mode

Power-on flag on the output

Two-edge sensitive wake-up input signal via pin WAKEB
| Applications | | End Products |
| --- | --- | --- |
| | | |
Technical Documentation & Design Resources
Case Outline
AMIS41683CANN1RG
Lifetime

AEC Qualified
PPAP Capable
Pb-free
Halide free

AMIS-41683
SOIC-14
751AP
2
260
Tape and Reel
3000
| | | |
| --- | --- | --- |
| Market Leadtime (weeks) | : | Contact Factory |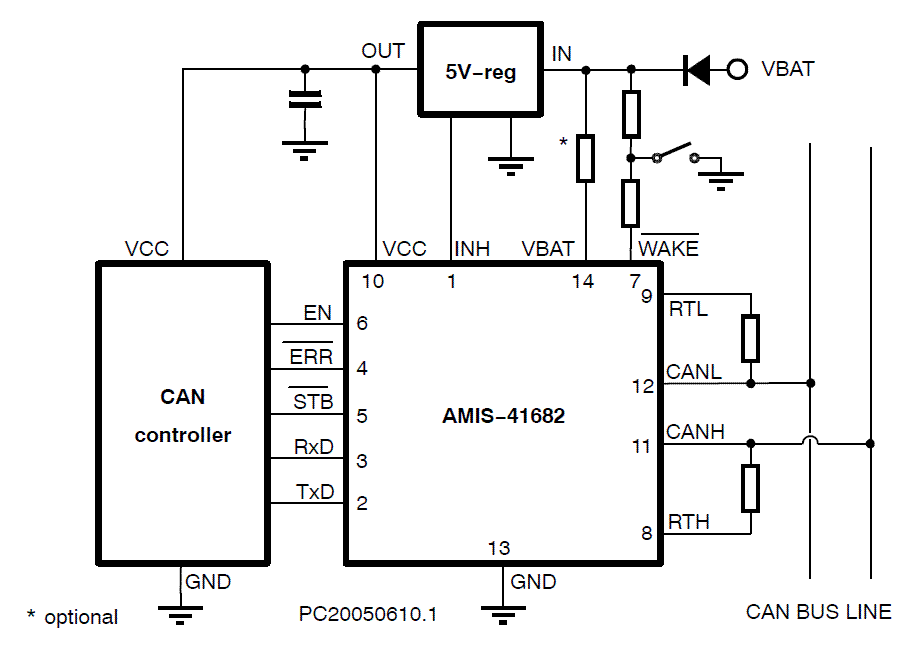 Application
Diagram - Block