AMIS-30660: CAN Transceiver, High Speed
The AMIS-30660 CAN transceiver is the interface between a controller area network (CAN) protocol controller and the physical bus and may be used in both 12 V and 24 V systems. The transceiver provides differential transmit capability to the bus and differential receive capability to the CAN controller.
Due to the wide common-mode voltage range of the receiver inputs, the AMIS-30660 is able to reach outstanding levels of electromagnetic susceptibility (EMS). Similarly, extremely low electromagnetic emission (EME) is achieved by the excellent matching of the output signals.
Features
Benefits

Transmit data (TxD) dominant time-out function

Prevents bus problem in case of node failure

Fully compatible with the ISO 11898-2 standard

Certified Authentication on CAN Transceiver Conformance (d1.1)

High speed (up to 1Mbit/s)

Ideally suited for 12V and 24V industrial and automotive applications

Low EME common-mode choke is no longer required

Differential receiver with wide common-mode range (+/- 35V) for high EMS

No disturbance of the bus lines with an un-powered node

Bus pins protected against transients in an automotive environment

Silent mode in which the transmitter is disabled

Short circuit proof to supply voltage and ground
Applications
End Products

ECU
Gateway
Body Controller

Automobiles
Industrial Equipment
Technical Documentation & Design Resources
Case Outline
AMIS30660CANH2RG
Lifetime

AEC Qualified
PPAP Capable
Pb-free
Halide free

AMIS-30660
SOIC-8
751AZ
2
260
Tape and Reel
3000
AMIS30660CANH6G
Last Shipments
AMIS-30660
SOIC-8
751AZ
3
260
Tube
96
AMIS30660CANH6RG
Last Shipments

AEC Qualified
PPAP Capable
Pb-free
Halide free

AMIS-30660
SOIC-8
751AZ
3
260
Tape and Reel
3000
| | | |
| --- | --- | --- |
| Market Leadtime (weeks) | : | Contact Factory |
| PandS (2020-09-14 00:00) | : | >1K |
| FutureElectronics (2020-08-19 00:00) | : | >1K |
| Avnet (2020-08-19 00:00) | : | >1K |
| | | |
| --- | --- | --- |
| Market Leadtime (weeks) | : | Contact Factory |
| ON Semiconductor (2020-09-02 00:00) | : | 4,992 |
| | | |
| --- | --- | --- |
| Market Leadtime (weeks) | : | Contact Factory |
Case Outlines
751AZ
Packages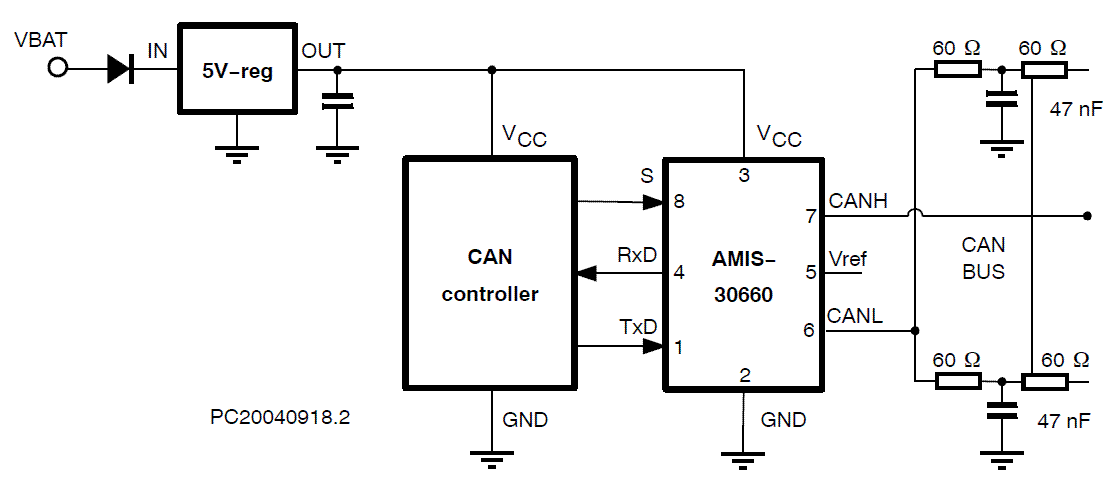 Application
Diagram - Block