The document you are trying to download is gated.
Log into MyON to proceed.
NBSG72A: 2 x 2 Crosspoint Switch, SiGe Differential, 2.5 V / 3.3 V, with Ouput Level Select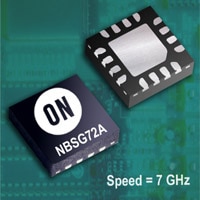 The NBSG72A is a high-bandwidth fully differential 2 X 2 crosspoint switch with Output Level Select (OLS) capabilities. This is a part of the GigaComm family of high performance Silicon Germanium products. The device is housed in a low profile 3 X 3 mm 16-pin QFN package.
Differential inputs incorporate internal 50 Ω termination resistors and accept NECL (Negative ECL), PECL (Positive ECL), LVCMOS/LVTTL, CML, or LVDS. The OLS input is used to program the peak-to-peak output amplitude between 0 and 800 mV in five discrete steps. The SELECT inputs are single-ended and can be driven with either LVECL or LVCMOS/LVTTL input levels.
Features

Maximum Input Clock Frequency > 7 GHz Typical

Maximum Input Data Rate > 7 Gb/s Typical

200 ps Typical Propagation Delay (OLS = FLOAT)

55/45 ps Typical Rise/Fall Times (OLS = FLOAT)

Selectable Swing PECL Output with Operating Range: VCC = 2.375 V to 3.465 V with VEE = 0 V

Selectable Swing NECL Output with NECL Inputs with Operating Range: VCC = 0 V with VEE = −2.375 V to −3.465 V

Selectable Output Levels (0 mV, 200 mV, 400 mV, 600 mV or 800 mV Peak-to-Peak Output)

50 Ω Internal Input Termination Resistors

Single−ended LVECL or LVCMOS/LVTTL Select Inputs (SELA, SELB)

Failure management system to automatically re-route data
Applications
Interfacing between standard SDH equipment and DWDM equipment to select which lambda (wavelength) to be transmitted.
Routing reference clocks to SERDES/Framers to support Metro Applications using MULTI-RATE devices
Telecom/Datacom switching
Serial digital video routing
Fanout Buffering
Automatic protection switching
Automatic test protocol to verify the switch system (router) operates
ADSL router
Technical Documentation & Design Resources
Evaluation/Development Tool Information
| Product | Status | Compliance | Short Description | Action |
| --- | --- | --- | --- | --- |
| NBSG72AMNEVB | Active | | NBSG72A 2.5 V/3.3 V SiGe Differential 2 X 2 Crosspoint Switch with Output Level Select Evaluation Board | |
Case Outline
NBSG72AMNG
Last Shipments
2 x 2 Crosspoint Switch, SiGe Differential, 2.5 V / 3.3 V, with Ouput Level Select
QFN-16
485G-01
1
260
Tube
123
NBSG72AMNR2G
Last Shipments
2 x 2 Crosspoint Switch, SiGe Differential, 2.5 V / 3.3 V, with Ouput Level Select
QFN-16
485G-01
1
260
Tape and Reel
3000
| | | |
| --- | --- | --- |
| Market Leadtime (weeks) | : | Contact Factory |
| PandS (2020-06-04 00:00) | : | <100 |
| | | |
| --- | --- | --- |
| Market Leadtime (weeks) | : | Contact Factory |
Case Outlines
485G-01
Packages