The document you are trying to download is gated.
Log into MyON to proceed.
NB4L52: 2.5 to 5.5 V ECL D Flip-flop w/Differential Reset & Input Termination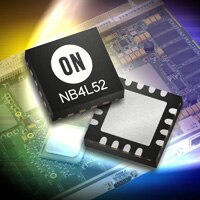 The NB4L52 is a differential Data and Clock D flip−flop with a differential asynchronous Reset. The differential inputs incorporate internal 50-ohm termination resistors and will accept LVPECL, LVCMOS, LVTTL, CML, or LVDS logic levels. When Clock transitions from Low to High, Data will be transferred to the differential LVPECL outputs. The differential Clock inputs allow the NB4L52 to also be used as a negative edge triggered device. The device is housed in a small 3mm x 3mm 16 pin QFN package.
Features

Maximum Input Clock Frequency > 4 GHz Typical

330 ps Typical Propagation Delay

145 ps Typical Rise and Fall Times

Differential LVPECL Outputs, 750 mV PeaktoPeak, Typical

Operating Range: VCC = 2.375 V to 5.5 V with VEE = 0 V
Applications
High Performance Logic for ATE and Networking
Technical Documentation & Design Resources
Case Outline
NB4L52MNG
Active
2.5 to 5.5 V ECL D Flip-flop w/Differential Reset & Input Termination
QFN-16
485G-01
1
260
Tube
123
Contact Sales Office
NB4L52MNR2G
Active
2.5 to 5.5 V ECL D Flip-flop w/Differential Reset & Input Termination
QFN-16
485G-01
1
260
Tape and Reel
3000
Contact Sales Office
| | | |
| --- | --- | --- |
| Market Leadtime (weeks) | : | 8 to 12 |
| FutureElectronics (2020-05-24 00:00) | : | <100 |
| PandS (2020-05-24 00:00) | : | <1K |
| | | |
| --- | --- | --- |
| Market Leadtime (weeks) | : | 13 to 16 |
Product
Description
Pricing ($/Unit)
Compliance
Status
Type
Bits
Input Level
Output Level
VCC Typ (V)
tJitter Typ (ps)
tpd Typ (ns)
tsu Min (ns)
th Min (ns)
trec Typ (ns)
tR & tF Max (ps)
fToggle Typ (MHz)
Package Type