The document you are trying to download is gated.
Log into MyON to proceed.
BELASIGNA R261: Advanced Noise Reduction Solution for Voice Capture Devices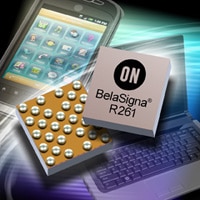 BelaSigna® R261 is a complete system-on-chip (SoC) solution that provides advanced dual-microphone noise reduction in voice capture applications such as laptops, mobile phones, webcams, tablet computers and other applications that will benefit from improved voice clarity.

Featuring a novel approach to removing mechanical, stationary and non-stationary noise, the chip preserves voice naturalness for greater speech intelligibility even when the talker is further away or not optimally aligned with microphones providing unmatched freedom of movement for end-users.

Designed to be compatible with a wide range of codecs, baseband chips and microphones without the need for calibration, BelaSigna R261 is easy to integrate, improving manufacturers' time to market.

Additional features include the ability to customize multiple voice capture modes and tune the algorithm to the unique needs of a manufacturer's device. The chip includes a highly optimized DSP-based application controller with industry-leading energy efficiency and is packaged in two highly compact 5.3 mm2 WLCSPs to fit into even the most sized-constrained architectures and allow the use of the cheapest printed circuit board design technologies.
Features
Benefits

Advanced two-microphone noise reduction algorithm

Advanced noise reduction: Effective against stationary and non-stationary background noise to improve voice clarity while preserving voice naturalness

Preserves voice naturalness

360° voice pickup: Conference mode enables noise reduction up to 6 meters from voice capture device

Supports close-talk and far-talk

Simplified system integration: Complete System-on-Chip takes two microphone signals and plugs directly into a digital microphone interface (DMIC) or into a host chip's microphone inputs

Conference mode enables 360 degree voice pick-up

Customizable algorithm: Can be adjusted to a manufacturer's desired balance between noise reduction aggressiveness and natural voice quality

Configurable algorithm performance

Microphone flexibility: Adaptive nature of algorithm enables flexibility in microphone placement and eliminates production line tuning; compatible with a broad range of microphones

Ultra-low power consumption

Configurable system: PC-based application simplifies the configuration of system settings

Ultra-miniature form factor

Miniature size: Requires minimal PCB area. Easily integrates into end-application architectures
Applications
End Products

Noise Reduction Audio Processing

Mobile phones
Notebook computers
Tablet computers
Webcams
Any device that picks up voice
Technical Documentation & Design Resources
Case Outline
BR261W26A101E1G
Obsolete
Advanced Noise Reduction Solution for Voice Capture Devices
WLCSP-26
567CY
NA
Tape and Reel
2500
BR261W30A101E1G
Obsolete
Advanced Noise Reduction Solution for Voice Capture Devices
VFBGA-140
138AE
NA
Tape and Reel
2500
| | | |
| --- | --- | --- |
| Market Leadtime (weeks) | : | Contact Factory |
| | | |
| --- | --- | --- |
| Market Leadtime (weeks) | : | Contact Factory |