NCS5651: Power Line Communcation (PLC) Driver, 2 Amp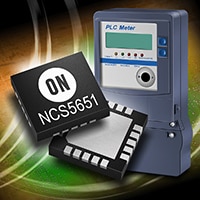 The NCS5651 is a high efficiency, class A/B, low distortion power line driver. It is optimized to accept a signal from a power line carrier (PLC) modem. The device consists of two operational amplifiers (opamps). The output opamp is designed to drive up to 2 A peak into an isolation transformer or simple coil coupling to the mains. At an output current of 1.5 A, the output voltage is guaranteed to swing within 1 V or less of either rail giving the user improved SNR.
In addition to the output amplifier, a small-signal opamp is provided which can be configured as a unity gain follower buffer or can provide the first stage of a 4-pole low pass filter.
The NCS5651 offers a current limit, programmable with a single resistor, R-Limit, together with a current limit flag. The device provides two independant thermal flags with hysteresis : a thermal warning flag to let the user know the internal junction temperature has reached a user programmable thermal warning threshold and a thermal error flag that indicates the internal junction temperature has exceeded 150 °C.
The NCS5651 has a power supply voltage range of 6-12 V. It can be shut down, leaving the outputs highly-impedant. The NCS5651 comes in a 20-lead QFN package (4x4x1 mm3) with an exposed thermal pad for enhanced thermal reliability.
Features

Rail-to-rail : drop of only +/-1 V with Iout = 1.5A

VBB supply voltage 6-12 V

Flexible 4th-order filtering

Current-limit set with one resistor

Diagnostic flags level shitfted to VCC to simplify interface with external MCU - thermal warning flag with flexible threshold setting - thermal error flag and hutdown - overcurrent flag

Extended junction temperature range : -40 °C to +125 °C

Small package : 20-pin 4x4x1 mm3 NQFP with exposed thermal pad

Optimized for operation in the Cenelec A to D frequency band
Applications
Smart and renewable energy controls
Solar panel control
Smart street lighting control
In-home display for split metering
Home and building automation
Transmission of alerts (fire, gas leak, water leak)
Electricity metering
Industrial control
Technical Documentation & Design Resources
Evaluation/Development Tool Information
| Product | Status | Compliance | Short Description | Action |
| --- | --- | --- | --- | --- |
| NCS5651MNSGEVB | Active | | Evaluation board for the NCS5651 low-distortion, high-frequency power line driver. | |
| | | |
| --- | --- | --- |
| | | Interactive Block Diagram |
| | | |
| --- | --- | --- |
| Market Leadtime (weeks) | : | Contact Factory |
Product
Description
Pricing ($/Unit)
Compliance
Status
Rail to Rail
Channels
VS Min (V)
VS Max (V)
Iq Typ (mA)
VOS Max (mV)
GBW Typ (MHz)
SR Typ (V/µs)
IO Typ (mA)
ΔVOS/ΔT (μV/C)
eN (nV/√Hz)
Ibias Typ (pA)
CMRR Typ (dB)
Architecture
Temperature Range (°C)
Package Type
Application
Diagram - Block
Your request has been submitted for approval.
Please allow 2-5 business days for a response.
You will receive an email when your request is approved.
Request for this document already exists and is waiting for approval.