The document you are trying to download is gated.
Log into MyON to proceed.
NCS325: Single Operational Amplifier, 50 µV Offset, 0.25 µV/°C, Zero-Drift Precision, Low Power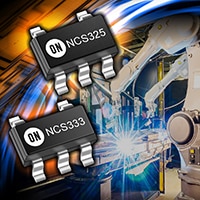 The NCS325 is a CMOS operational amplifier providing precision performance. The Zero−Drift architecture allows for continuous auto−calibration, which provides very low offset, near−zero drift over time and temperature, and near flat 1/f noise at only 35 µA (max) quiescent current. These benefits make it ideal for precision DC applications. The NCS325 provides rail−to−rail input and output performance and is optimized for low voltage operation as low as 1.8 V and up to 5.5 V. The NCS325 is available in the space saving SOT23−5 package.
Features
Benefits

Low Offset Voltage: 14 µV typ, 50 µV max at 25°C

Higher precision and reduced error

Zero Drift: 0.25 µV/°C max

Low offset voltage variability over temperature

Low Noise: 1 µVpp, 0.1 Hz to 10 Hz

Quiescent Current: 21 µA typ, 35 µA max at 25°C

Rail−to−Rail Input and Output

Wide input and output range

Supply Voltage: 1.8 V to 5.5 V

Wide supply voltage range
Applications
End Products

Current Sensing
Differential Amplification
Transducer Applications

Battery Powered Instruments
Electronic Scales
Medical Instrumentation
Technical Documentation & Design Resources
Case Outline
NCS325SN2T1G
Active
Single Operational Amplifier, 50 µV Offset, 0.25 µV/°C, Zero-Drift Precision, Low Power
TSOP-5 / SOT-23-5
483
1
260
Tape and Reel
3000
$0.3333
| | | |
| --- | --- | --- |
| Market Leadtime (weeks) | : | 4 to 8 |
Product
Description
Pricing ($/Unit)
Compliance
Status
Rail to Rail
Channels
VS Min (V)
VS Max (V)
Iq Typ (mA)
VOS Max (mV)
GBW Typ (MHz)
SR Typ (V/µs)
IO Typ (mA)
ΔVOS/ΔT (μV/C)
eN (nV/√Hz)
Ibias Typ (pA)
CMRR Typ (dB)
Architecture
Temperature Range (°C)
Package Type
NCS325SN2T1G
$0.3333
Active