The document you are trying to download is gated.
Log into MyON to proceed.
NCS21911: Precision Operational Amplifier, 2 MHz Bandwidth, Low Noise, Zero-Drift, 25 µV Offset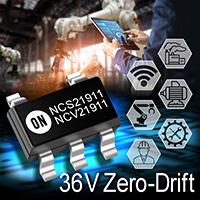 The NCS2191x family of high precision Zero-Drift Op Amps feature low input offset voltage and low offset drift over time and temperature. These devices have low quiescent current and low noise performance with a rail−to−rail output swing within 10 mV of the rails. The NCS21911 operates over a wide supply range from 4 V to 36 V. All versions are specified for operation from −40°C to +125°C.
Automotive qualified options are available under the NCV prefix.
Product Family:
Features
Benefits

Low Offset Voltage: 25 µV Max

Low Offset Drift:0.085 µV/°C max

Higher accuracy over temperature

Wide supply voltage range

Quiescent Current: 570 µA Max

Low Noise: 22 nV/√Hz typical

Gain-Bandwidth Product: 2 MHz typical

Higher speed with good slew rate
Applications
End Products

Temperature Monitoring
Transducer Applications
Electronic Scales
Medical Instrumentation
Current Sensing
Automotive

Power Supplies
Traction Invertors
Motor Control
Sensor Interface
Technical Documentation & Design Resources
Evaluation/Development Tool Information
| Product | Status | Compliance | Short Description | Action |
| --- | --- | --- | --- | --- |
| NCS21911SN2GEVB | Active | | NCS21911SN EVAL BOARD | |
Case Outline
NCS21911SN2T1G
Active
NCS21911
TSOP-5 / SOT-23-5
483
1
260
Tape and Reel
3000
$0.6629
NCV21911SN2T1G
Active

AEC Qualified
PPAP Capable
Pb-free
Halide free

NCS21911
TSOP-5 / SOT-23-5
483
1
260
Tape and Reel
3000
$0.696
| | | |
| --- | --- | --- |
| Market Leadtime (weeks) | : | 8 to 12 |
| ON Semiconductor (2020-09-02 00:00) | : | 6,000 |
| FutureElectronics (2020-08-19 00:00) | : | >1K |
| | | |
| --- | --- | --- |
| Market Leadtime (weeks) | : | 8 to 12 |
| ON Semiconductor (2020-09-02 00:00) | : | 21,000 |
| FutureElectronics (2020-08-19 00:00) | : | >1K |
| Avnet (2020-08-19 00:00) | : | >1K |
Product
Description
Pricing ($/Unit)
Compliance
Status
Rail to Rail
Channels
VS Min (V)
VS Max (V)
Iq Typ (mA)
VOS Max (mV)
GBW Typ (MHz)
SR Typ (V/µs)
IO Typ (mA)
ΔVOS/ΔT (μV/C)
eN (nV/√Hz)
Ibias Typ (pA)
CMRR Typ (dB)
Architecture
Temperature Range (°C)
Package Type