NCP4894: Audio Power Amplifier, 1.8 Watt, with Selectable Shutdown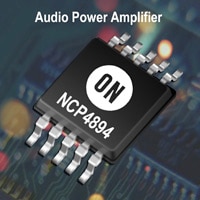 The NCP4894 is a differential audio power amplifier designed for portable communication device applications. The excellent audio characteristics of the NCP4894 are a guarantee of high quality sound, for example, in mobile phone applications. With less than 0.01% distortion (THD+N), the NCP4894 is capable of delivering 1.0W of continuous average power to an 8.0Ω load from a 5.0V power and still 250mW from 2.6V.

The NCP4894 provides high quality audio while requiring few external components and minimal power consumption. It features a low-power consumption shutdown mode.To be flexible, shutdown may be enabled by either a logic high or low depending on the voltage applied on the SD MODE pin.

The NCP4894 contains circuitry to prevent from "pop and click" noise that would otherwise occur during turn-on and turn-off transitions.

For maximum flexibility, the NCP4894 provides an externally controlled gain (with resistors), as well as an externally controlled turn-on time (with bypass capacitor).

Due to its excellent PSRR, it can be directly connected to the battery, saving the use of an LDO.

This device is available in the 9-Pin Flip-Chip CSP, Micro10 and DFN 3x3 mm package.
Features

Differential Amplification

Shutdown High or Low Selectivity

1.0 W to an 8.0 load from a 5.0 V Power Supply

Superior PSRR: Direct Connection to the Battery

Pop and Click Noise Protection Circuitry

Ultra Low Current Shutdown Mode

External Gain Configuration Capability

Thermal Overload Protection Circuitry

External Turn-on Time Configuration Capability
| Applications | | End Products |
| --- | --- | --- |
| | | |
Technical Documentation & Design Resources
Case Outline
NCP4894DMR2G
Last Shipments
NCP4894
Micro10
846B
1
260
Tape and Reel
4000
NCP4894FCT1G
Obsolete
NCP4894
Flip-Chip-9
499AL
1
260
Die Surf Tape and Reel
3000
NCP4894MNR2G
Obsolete
NCP4894
DFN-10
485C
1
260
Tape and Reel
3000
| | | |
| --- | --- | --- |
| Market Leadtime (weeks) | : | Contact Factory |
| PandS (2020-09-14 00:00) | : | >1K |
| | | |
| --- | --- | --- |
| Market Leadtime (weeks) | : | Contact Factory |
| PandS (2020-09-14 00:00) | : | <1K |
| | | |
| --- | --- | --- |
| Market Leadtime (weeks) | : | Contact Factory |
| PandS (2020-09-14 00:00) | : | <1K |