Uninterruptable Power Supplies (UPS)
Uninterruptible Power Supply (UPS) systems are widely used to safeguard power supply for critical components in a myriad of applications ranging from telecommunications and data centers, to various industrial facilities. These systems ensure reliable voltage supply by providing a filter function in addition to compensating for short-term power outages from the grid.
ON Semiconductor provides a wide and deep portfolio of high performance discrete devices, including power MOSFETs, IGBTs, SiC Diodes, High Voltage Gate Drivers (HVICs), Interleaved PFC Controllers, Flyback & Forward PWM Controllers with Integrated MOSFET, high power modules, and isolation for signal and gate drive, to address the demanding requirements of a diverse range of low, medium, and high power uninterruptible power supply (UPS) designs.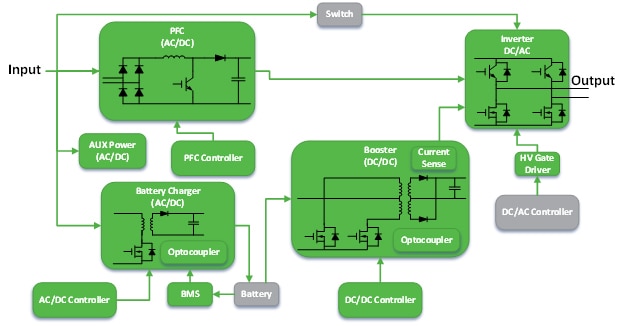 Uninterruptible Power Supply Block Diagram
Related Products
Related Information
Evaluation Boards & Kits
Block Diagrams