EV Charging
Power Electronics at the Pump
With the decarbonization of automobiles and other transportation vehicles, there will be an increasing need for vehicle charging infrastructure. Robust devices and systems, designed for safety and reliability, are needed to power the cars of the future.
ON Semiconductor's super-junction MOSFETs, IGBTs, SiC devices, and power integrated modules (PIMs), along with our gate drivers, sensing, control and peripheral power products provide a complete system solution for electric vehicle charging systems of all types and power levels.
EV Charging equipment is normally classified from Level 1 to Level 4, corresponding to the charging power level, as described below. For Level 1 and Level 2 charging, the main power electronics are normally inside the vehicle. ON Semiconductor technology for On-Board Chargers (OBCs) can be found in the Vehicle Electrification solution pages.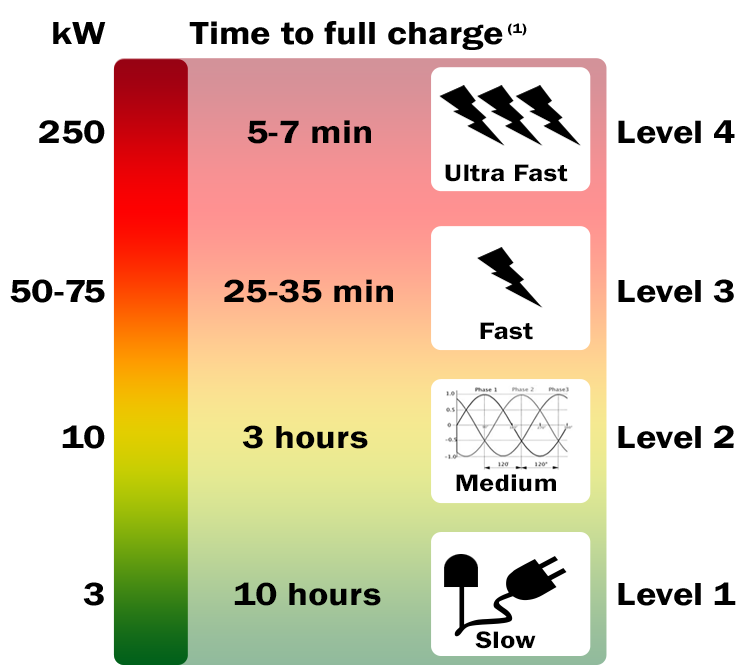 In Level 3 and 4 EV Charging equipment, the higher power, cost and weight of the AC to DC conversion equipment requires fixed installations. Below is a block diagram for an EV Charging station, with a Vienna rectifier for the PFC front end and a full bridge resonant LLC DC-DC stage. The green blocks show all the subsystem solutions which are offered by ON Semiconductor.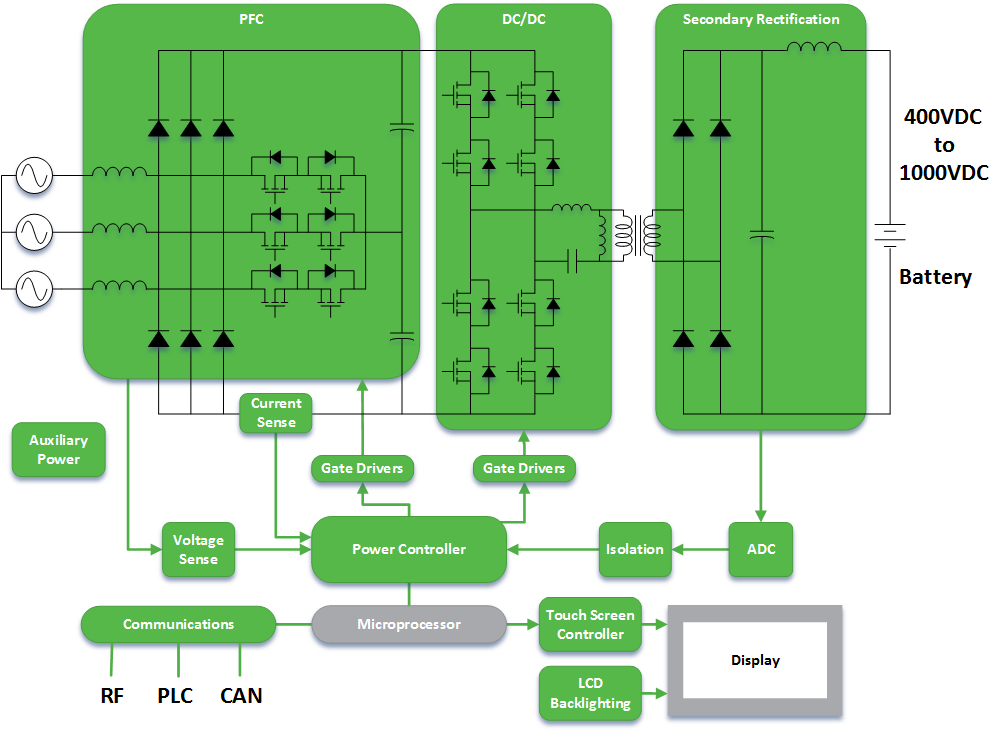 Applications
| 3.3kW | Descriptions |
| --- | --- |
| DN05107/D | 3.3KW On Board EV Charger |
| AND9813/D | Electric Vehicle OBC System Using Power Modules |
| TND6327/D | 3.3 kW APM OBC Demo Board |
| 6.6 kW- 7.2 kW | Descriptions |
| TND6320/D | 6.6 kW On Board EV Charger Reference Design |
| 11 kW- 22 kW | Descriptions |
| TND6318/D | On Board Charger (OBC) LLC Converter |
| AND9957/D | How to Interface with the 3 Phase PFC Evaluation Board |
| SEC-3PH-11-OBC-EVB | Three-phase On Board Charger (OBC) PFC-LLC platform |
Related Products
Products
Descriptions
IGBTs
Insulated gate bipolar transistors (IGBTs) for electronic ignition, flash, motor drive, and other high current switching applications.
Rectifiers
Standard and fast recovery rectifiers.
Silicon Carbide (SiC) Diodes
Silicon Carbide Schottky Diodes
MOSFET/IGBT Drivers
MOSFET drivers and IGBT drivers for low side, high side, and half-bridge drive circuits.
IGBT/MOSFET Gate Drivers Optocouplers
The IGBT/MOSFET gate drive optocoupler series provides fast switching specifications allowing designers to use smaller filters, thus reducing overall system power consumption.
High Performance Optocouplers
ON Semiconductor's 3.3V/5V high-speed logic gate optocouplers support isolated communications between systems without conducting ground loops or hazardous voltages.
Current Sense Amplifiers
Current sensing requires accurate measurements and ON Semiconductor's current sense amplifiers offer high degree of precision current sensing along with the advantages of wide input common mode range, bidirectional current sensing and high/low side current sensing.
Operational Amplifiers (Op Amps)
ON Semiconductor's wide portfolio of Op Amps features high performance devices which include low power, low noise, precision, power and also general purpose amplifiers.
High Current Gate Drivers
The NCD5700 family of high current gate drivers is designed to keep high drive current through the Miller plateau to reduce switching losses.

NCD5700: IGBT Gate Driver, NCV5700: IGBT Gate Driver

NCD5701: IGBT Gate Driver, NCV5701: IGBT Gate Driver

Driving SiC MOSFETs is different than Si devices, so we designed a driver just for that:

NCP51705: SiC MOSFET Driver, Low-Side, Single 6 A High-Speed