Wide Band Gap
Next Generation for Power Semiconductors
Silicon Carbide (SiC) and Gallium Nitride (GaN) are the next generation materials for high performance power conversion and motor control. These Wide Band Gap (WBG) materials will power future applications for high performance.
Market trends and tightening industry standards are driving the need for more energy efficient products. Power supplies and solar inverters need higher efficiency and increased power density. Electric vehicles are constantly pushing for more miles per charge and faster charging times.
Wide Band Gap technologies provide advanced performance:
Faster Switching
Lower Power Losses
Increased Power Density
Higher Operating Temperatures
This performance is aligned with future market demands and trends:
Higher Efficiency
Compact Solutions
Lower Weight
Reduced System Cost
Increased Reliability
Key applications for Wide Band Gap devices:
Solar Boost Converters and Inverters
Power Factor Correction
Electric Vehicle Charging
Uninterruptible Power Supplies
Server & Telecom Power Supplies
What makes Wide Band Gap devices a better solution?
Higher dielectric breakdown field
Higher electron saturation velocity
Higher thermal conductivity
Higher breakdown voltage at given doping
Higher carrier concentration + lower depletion layer width

Thinner epi compared to Si for the same breakdown voltage
Lower Ron, reduced static (conductive) losses

Majority carrier device exhibit no reverse recovery charge:
Reduced switching losses

Higher switching frequency
Smaller passives, simpler EMI protection

Lower losses

Less efficient cooling required, smaller form factor, lower weight
Why Choose SiC diodes?
No reverse recovery current
Higher switching frequency
Low forward voltage (VF)
Stable leakage current over temperature
Higher surge and avalanche capacity
Higher operating temperature (TJMAX = 175°C)
Negligible reverse recover charge (Qrr) reduces switching losses enabling higher switching frequency.
These characteristics deliver real value:
Reduced magnetics and other passive components
Higher power density and lower system cost
Higher reliability
Higher system efficiency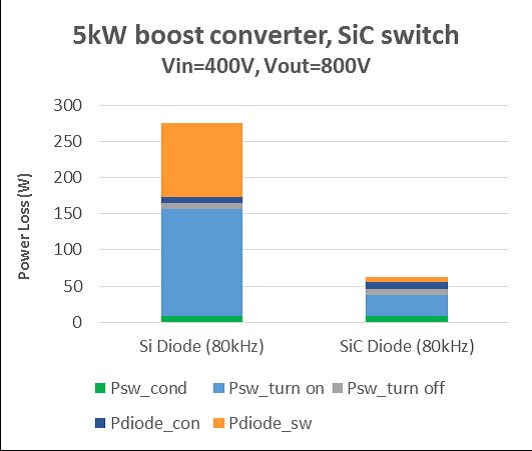 Highest Reliability

ON Semiconductor's SiC devices have a patented termination structure which provides superior robustness for harsh environmental conditions.
ON Semiconductor is a member of the JEDEC Wide Bandgap Standards Committee.
ON Semiconductor is developing the full ecosystem of parts to support WBG power designs, including SiC diodes and MOSFETs, GaN HEMTs, specialized gate drivers and integrated modules.
SiC Content:
SiC Diodes

Automotive Qualified SiC Diodes:

IGBTs with copack SiC Diodes
Modules with SiC Diodes
SiC Modules
SiC MOSFETs
SiC MOSFET Driver
Isolated Gate Drivers