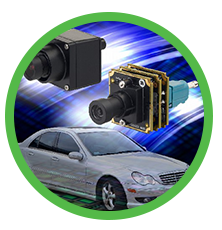 MARS: Modular Automotive Reference System
The Modular Automotive Reference System (MARS) is a complete imaging solution for camera system developers and software developers working on automotive imaging applications. MARS gives engineers and software developers the fundamental building blocks needed to create next generation imaging systems, while reducing the design effort and resources required to develop a working solution.
Using the modular mix & match approach offered by this unique compact form factor platform, designers can bring together different combinations of image sensors, co-processors (Image Signal Processor) and communication standards. The component boards have consistent signal/power interconnect definitions to enable users to swap individual boards, creating a wide range of options for experimenting, while eliminating the need for constructing custom boards. The result is a highly flexible solution where the various modules are fully interchangeable.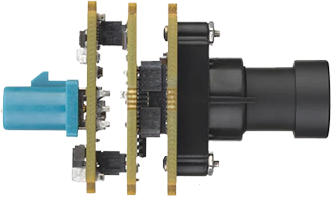 MARS Imaging System Components

Individual MARS Board Order Description
Sensor Board OPNs
Short Description
Sensor Board Description
MARS1-AR0230ATS-GEVB
2.1 MP, 1/2.7" MARS Sensor Board
MARS sensor board with 2.1 MP, 1/2.7" high-dynamic range color AR0230AT image sensor
MARS1-AR0231AT6-GEVB
2.3 MP, 1/2.7" MARS Sensor Board
MARS sensor board with 2.3 MP, 1/2.7" high-dynamic range color AR0231AT image sensor with LED Flicker Mitigation and BSI pixel technology for superior low-light performance
MARS1-AR0132AT6-GEVB
1.2 MP, 1/3" MARS Sensor Board
MARS sensor board with 1.2 MP, 1/3" high-dynamic range color AR0132AT image sensor
MARS1-AR0136AT3-GEVB
1.2 MP, 1/3" MARS Sensor Board
MARS sensor board with 1.2 MP, 1/3" high-dynamic range color AR0136AT image sensor and BSI pixel technology
MARS1-AR0140AT3-GEVB
1.0 MP, 1/4" MARS Sensor Board
MARS sensor board with 1.0 MP, 1/4" high-dynamic range color AR0140AT image sensor
MARS1-AR0135AT2-GEVB
1.2 MP, 1/3" MARS Sensor Board
MARS sensor board with 1.2 MP, 1/3" global shutter AR0135AT image sensor with high global shutter efficiency and superior NIR performance
Co-Processor Board OPNs
Short Description
Image Co-Processor Description
MARS1-AP0200AT2-GEVB
Up to 2.0 MP MARS Image Co-processor Board
MARS Image Co-Processor (ICP)AP0200AT High-Dynamic Range (HDR) ICP with built-in MJPEG and H.264 encoder and Ethernet-MII, RMII, GMII output interface
MARS1-AP0202AT2-GEVB
Up to 2.0 MP MARS Image Co-processor Board
MARS Image Co-Processor (ICP) with AP0202AT High-Dynamic Range (HDR) ICP with parallel ouput
MARS1-AP0100AT2-GEVB
Up to 1.2 MP MARS Image Co-processor Board
MARS Image Co-Processor (ICP) with AP0100AT High-Dynamic Range (HDR) ICP with sophisticated lens distortion correction and integrated video encoder for NTSC/PAL output
MARS1-AP0101AT2-GEVB
Up to 1.2 MP MARS Image Co-processor Board
MARS Image Co-Processor (ICP) with AP0101AT High-Dynamic Range (HDR) ICP and parallel output
MARS1-AP0102AT2-GEVB
Up to 1.2 MP MARS Image Co-processor Board
MARS Image Co-Processor (ICP) with AP0102AT High-Dynamic Range (HDR) ICP with sophisticated lens distortion correction and parallel output
Serializer OPNs
Short Description
Serializer Description
MARS1-TI913-GEVK
MARS Serializer Board
Texas Instruments DS90UB913 Parallel to LVDS FPD-Link Serializer
MARS1-MAX96705-GEVB
MARS Serializer Board
Maxim MAX96705 Parallel to LVDS GMSL Serializer
Deserializer OPNs
Short Description
Desrializer Description
MARS1-TI914
MARS Deserializer Board
Texas Instruments DS90UB914 LVDS to Parallel FPD-Link Deserializer
MARS1-MAX9706
MARS Deserializer Board
Maxim MAX96706 LVDS to Parallel GMSL Deserializer
Ethernet PHY OPNs
Short Description
Ethernet PHY Description
MARS1-KSZ8081MNX-GEVB
MARS Ethernet PHY Board
MARS Micrel KSZ8081MNX-GEVB Ethernet PHY Board
Demo3 Adapter Board OPNs
Short Description
Demo3 Adapter Board Description
MARS1-DEMO3-ADAPTER-GEVB
MARS Parallel to Demo3 Adapter
MARS Adapter for adapting the parallel serializer boards into Demo3 Demo Kit Tool
Demo3 Board OPNs
Short Description
Demo3 Board Description
AGB1N0CS-GEVK
Demo3
Demo3 Demo Kit Tool
Related Information