ON Semiconductor offers a complete Wide Bandgap portfolio of SiC & GaN discretes, modules, and drivers.
Bei ON Semiconductor erhalten Sie ein komplettes Portfolio an Wide Band Gap-Halbleitern in Form von diskreten Bausteinen, Modulen und Treibern in SiC- und GaN-Technologie.
ON Semiconductor offers a wide portfolio of PoL devices and linear regulators to meet a wide range of voltage and current requirements, including a growing 48 V compatible family.
The microprocessor and GPU brains which crunch the data of our lives are difficult, dynamic loads. Mulitphase power supplies provide the efficiency across load and fast response for computing in a range of applications.
The ability to hot swap memory, drives, or other peripherals is a key functionality of server, computing, and telecom hardware. ON Semiconductor's load switch and eFuse portfolios provide an easy, compact, and efficient solution with the hot swap controller and MOSFET integrated into one device.
Gate Driver Solutions
Every switch needs a gate driver. Gate Driver Products are the interface between control signals (from a digital or analog controller) and power switches (IGBTs, MOSFETs, SiC MOSFETs, and GaN HEMTs). Their additional functions can include level shifting, isolation, fault sensing and signal conditioning. We offer a broad selection tailored for a variety of power switches, topologies and applications. ON Semiconductor's diverse portfolio of gate drivers contains the right solution for a range of systems including Automotive, Industrial, Cloud and Telecom applications.
Design Resources - Evaluation Boards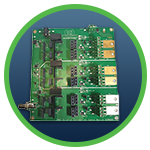 SECO−GDBB−EVB is a baseboard conceived for use as a plug and play environment for testing various types of gate drivers. The board enables to feed the drivers with the same control signal under same conditions and compare their capabilities. It is set up to accommodate up to six driver boards (daughter boards) designed to test gate drivers functions and features (all driver boards are pin compatible with baseboard).
Main PCB Structure


Daughter Mini Board Structure
Gate Driver Category by Isolation
Gate Driver Isolation Options
Single Isolated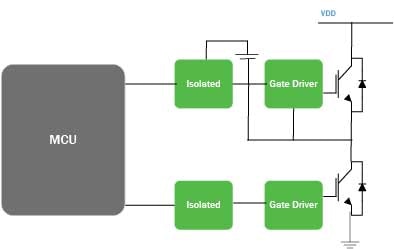 Galvanic isolation is provided in the gate drive PWM logic signal from the controller using a part such an optocoupler or digital isolator. Then the isolated PWM signal is fed to the gate driver to turn on and off the switch.
Characteristics:
Not commonly used
Layout can be complex due to extra IC's
Decoupling Caps extra cost
GND noise Common Mode choke could be required
APPS-Low to Med Power; Afterthought Isolation need it if long cables are used
Junction Isolation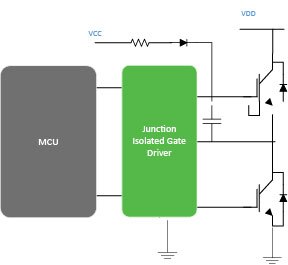 A junction isolated gate driver does not provide true galvanic isolation. A semiconductor junction in the driver allows a floating well to rise and fall with the switch node, and therefore be able to control the high side gate.
Characteristics:
Low cost
Easy layout
Need to select Boost Diode and Cap with care for speed/ratio noise
Possible Cap needed for cross-coupling reduction due to NO galvanic Isolation
APPS-DC-DC; PFC; Small-Med Motor drivers; Consumer Appliances; Med Power UPS<3KW
Galvanic Isolation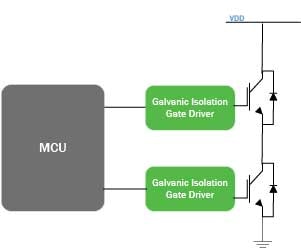 Galvanic isolation allows power or signal transfer between two electrical circuits without a shared current flow (circuits separately grounded). This can increase the reliability and safety of power systems and protects sensitive circuits from transients.
Inductive / Coreless transformer
The magnetic field coupling between inductors carries the signal across the isolation boundary.
Capacitive Isolation
The electric field between parallel plates (capacitor) carries the signal across the isolation boundary.
Optocoupler
Photons from an LED are detected by a photdiode to transmit the signal across the isolate boundary.


Characteristics:
IC is complex; all Intergrated
Full protection features
Higher cost/Highest safety
Ease of Layout, no extra components
APPS-High Power AC/BLDC Motors; Industrial SMPS; Solar Inverters; High Power UPS>3KW
The size, density and sheer number of datacenters is rapidly growing, which is driving increasing need for efficiency. The largest operational cost for data centers is electricity. Improving the power conversion efficiency at every stage in the power distribution architecture is a critical factor to reduce cost. Emerging applications, such as artificial intelligence, machine-to-machine connectivity and cloud computing, are driving the need for higher rack power density, in addition to the challenge of adapting to a 48 V backplane.
Every switch needs a gate driver. Gate Driver Products are the interface between control signals (from a digital or analog controller) and power switches (IGBTs, MOSFETs, SiC MOSFETs, and GaN HEMTs).
Features
We've created specific design resources to help you make power conversion and motor control solutions like renewable energy products, cloud-enabled data centers, variable speed motor drives, and lighting products last longer, use less energy, and run more reliably.
Unsere spezifischen Designressourcen unterstützen Sie dabei, Ihre Lösungen zur Leistungsumwandlung und Motorsteuerung langlebiger, energiesparender und zuverlässiger zu gestalten – etwa Produkte im Bereich der erneuerbaren Energien, Cloud-fähige Rechenzentren, drehzahlvariable Antriebe und Beleuchtungen.
Media
Power Conversion & Motor Control videos
More Videos ...
Robotic Hand Control Demo with the Motor Driver Solutions Kit
A 3D Printed Robotic Hand is shown here being controlled by the LV8548MC from the Motor Driver Solution Kit from ON Semiconductor. We can perform human tasks such as picking up a ball or pointing a finger.